Thursday September 21, 2023, official event time 5-8 PM (but 100 cars were already in attendance by 3PM!), in Clinton Twp, MI, Sanders held their monthly Sweet Treats & Sweet Rides Cruise In car show.
This is the last event here for the season, and it's usually always packed because of that fact.
Today was on par statistically.
Well over 300 vehicles filled the entire chocolate shop lot, plus most of the grassy area next door!
Several GM G-body & A-body cars showed up along with a variety of other vehicles!
And 3 Buick Grand Nationals plus a Regal T-type! That's makes us happy campers.
.
This Saturday (9-23), is the Jammin' at the Junction car show (in Roseville) as well as the Gratiot Cruise (in Chesterfield).
We plan on attending both.
Get your hot rods and classic cars out there, there's only a few cruising events left!
But of course, there are some parking lot car shows still going on into October…
.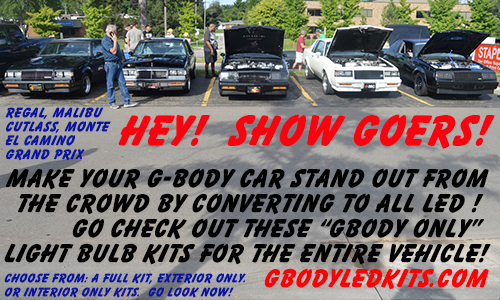 .
.