Here's an original 1993 Buick 90th Anniversary Media Information Press Kit.
The folder contents had the following items:
Press Releases:
Buick Celebrates 90th Anniversary in 1993
Buick Tracks Its Oldest Surviving Cars in Preparation for 90th Anniversary
Buick Heritage Notes
36 pages of information + 6 photos + 3 slides.
Measurements of the folder: 9″ wide x 12 tall.
(find it on ebay for about $40 if you want it in your Buick literature collection)
.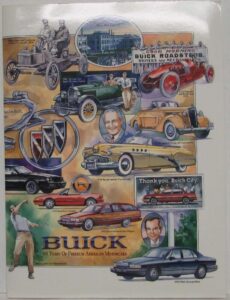 .
Here's some related Buick items if you happen to be shopping for Buick merchandise! (if you can't see them, turn off your ad blocker!)
.