This 9×12 inch 76 page brochure contained all of the specifications, details, and more, for the 1978 Buick lineup of new vehicles, including: Regal, Riviera, Electra, Estate wagon, Century, Skylark, Skyhawk, and the LeSabre.
These sales catalogs could be found on a rack inside the Buick car dealerships to help potential buyers explore their options on all of Buick's offerings for 1978.
This particular booklet, and because Buick was celebrating 75 years in 1978, they promoted "75 years of greatness" on the cover, and inside had a look back at certain vehicles from Buicks past, including a summary of Buicks history.
.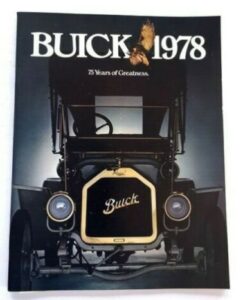 .
Here's some related Buick items if you happen to be shopping for Buick merchandise! (if you can't see them, turn off your ad blocker!)
.