Johnny Lightning has released 2 new Buicks in their "Muscle Cars USA" series.
The current offering is "release 3" for the 1:64 scale diecast vehicles.
Presented on a colorful card with a couple "muscle facts" revealed, these Buick Regal toys have authentic factory paint colors on the die-cast metal body & chassis.
There is a set of 6 cars, all listed on the back of the card.
If you notice on this list, the third car featured is the Buick.
However, since there are 2 versions (see A & B below) of Buicks in this edition, the car model name changes in this spot.
Makes you wonder if there are 2 different versions of all the other automobiles listed in this set?
"Version A" has a 1986 Buick Grand National in the color Black.
A limited edition of 9388 pieces are available.
"Version B" has a 1986 Buick Regal T-Type in the color Rosewood Poly.
A limited edition of 9148 pieces are available.
(the version number is shown on the lower left hand corner of the card)
We just saw both cars for sale on ebay, each was $11.99 (plus $5.50 shipping).
(but undoubtedly cheaper IF you are lucky enough to find these in your local stores)
With these Turbo Regals being sold in limited quantities (compared to the normally mass produced releases), these will probably go up in value.
Our opinion is favorable to the recent crop of Turbo Buicks being produced in smaller quantities.
It makes them "seem" to be more exclusive and valuable.
.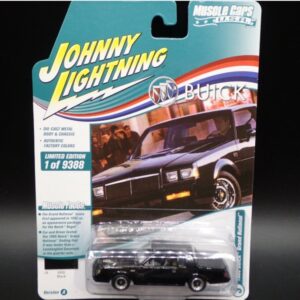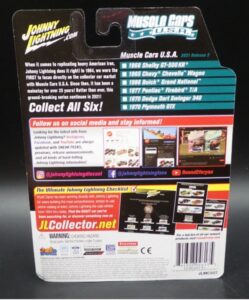 .
.
.
There's also the super rare, extremely limited edition, White Lightning, AKA, Chase car available.
The one shown below is from the "version A" set.
(current bidding on ebay for this one is about $140 with 4 days to go!)
.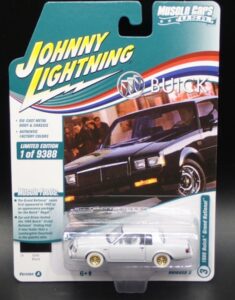 .
Here's some related Buick items if you happen to be shopping for Buick merchandise! (if you can't see them, turn off your ad blocker!)
.