We are continuing to achieve our goal this year by hitting up as many new shows that we've never been to before as we can.
The Allen Park, Michigan, car show, put on by the Allen Park Chamber of Commerce, held on Wednesday, June 21, 2023, has us commenting "wow!"
We read there'd be over 300 cars in attendance, so we figured it would be a good turnout.
We weren't expecting over 500 vehicles though (our guesstimate)!
Various modes of transportation filled both sides of Allen Road (just South of Southfield Rd) as well as right down the middle of the street, stretching out for a few blocks!
Cool!
Reminds us of small town shows where they do that (think Holly car show).
Lots of walking to see everything, but absolutely worth it.
Plenty of GM G-bodies to fulfill our cravings, and 8 Turbo Buicks showed up!
(5 GN's, 1 black Turbo T, 1 dark red T-type, & 1 silver Limited)
Lots of older Buicks and plenty of GM A-bodies too!
We ran into Wayne (the owner of the cool "Carbon Fever" Grand National shown herein, who's made a few changes on the car since we last saw it [a couple years ago], can you see all the neat details on it? It looks truly stunning in person!).
[he says he's attending the Fort Street cruise, most likely at Kroger, so if you're into custom Buick Grand Nationals, go find his car!]
Shoutout to Tyler too (who currently runs a big turboed LS motor while he builds up his 3.8 T/A block).
[see the pics of his car, we love his license plate, it says "Real T" – and even though it's on his Grand National, it doesn't mean what you think! He's a house realtor! "realty" – Clever, huh?]
[if you need a realtor in Mich, get a hold of Tyler: facebook.com/tystipe]
This event is definitely going on our "must attend" list for next year!
.
Today is the start of a 5 day run of car shows, come back to this site for the next 4 days in a row and check out all the different automotive events that are happening all around Michigan!
.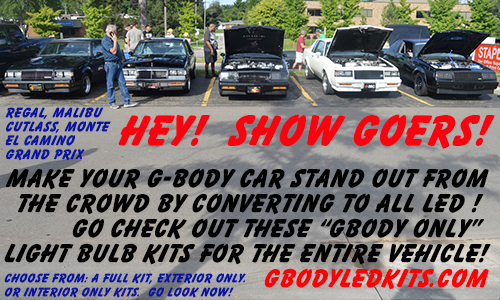 .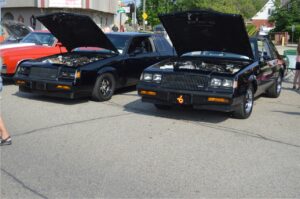 .