Some hobbyists aren't satisfied with the regular Buick Regal slot cars that were created by Tyco, so they custom designed their own paint schemes onto the bodies.
Racing stripes, different than the norm paint colors, etc., are the usual mods performed.
Here's a look at a couple custom slot cars.
.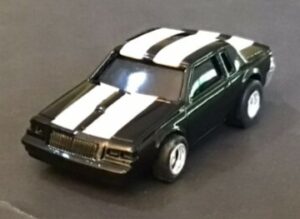 .
.
Here's some related Buick items if you happen to be shopping for Buick merchandise! (if you can't see them, turn off your ad blocker!)
.