Around 2005 my brother called me and asked that I find a rust free Buick Turbo Regal for him.
With me living in the San Francisco Bay Area and him in Kansas City the search area was obvious.
I found him a nice low mileage white on white over red Buick Regal Limited.
The owner even delivered it for me.
When my brother came out to pick up the car he performed an oil change and installed a new battery.
The Buick Regal started right up and sounded fantastic.
Brother Bill said, "Hop in. Let's take it for a spin."
As he turned onto the street he buried his right foot.
The Regal Limited kept accelerating until we heard a BOOM!
We nursed the car back to the house and dropped the oil pan.
Upon inspection, we noted the crankshaft races had been crushed to razor blade thinness.
Evidently, the waste-gate didn't function as it should resulting in heaven knows how much boost was applied.
Quite the testament for how strong the Buick 3.8 turbo engine is.
Most other engines would have rocketed a rod or blown a head off.
.
Thanks to Bob W. for sharing this story with us!
Here's a photo below of his current ride, a 1987 Buick Grand National.
(with 28k miles, which is loaded including the factory Astro Roof, digital dash, and even the factory trunk dress up package. Original paint and bumper fillers with slight modifications.)
.
******
Want to share your own "Regal Tales" with us, so we can share it with others?
Racing stories, car buying adventures, auto experiences, or just have your own Gbody Regal car posted on here as a Turbo Buick Owner?
(click any of those links to be taken to the page where you can find out how!)
******
.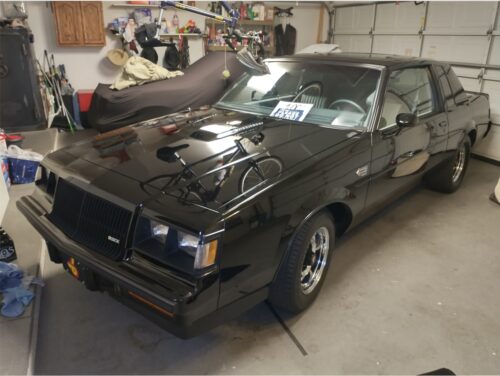 .