Disappointment. That pretty much describes this "last cruise of the season."
I realize that this was an unofficial event (held on Saturday September 26, 2020), but I figured there would be more hot rods participating than there actually was.
I think the Jammin' at the Junction event in Roseville (yesterday's post) was a better show.
At least all the cars were gathered together and it seemed like a lot (around 100).
Sure, there were more cars in Chesterfield MI (but not that many more like there should have been), and most were gathered in 2 or 3 lots, however very few were cruising around like you'd normally expect at this event.
Of course, there were some other events going on Saturday. Jammin' at the Junction in Roseville, and Port Huron held a cruise in. Maybe that explains part of the lack of participation at this cruise.
I saw a couple other Buick GN's, a few Monte Carlos & Cutlasses, and some older Buick vehicles.
The bouncy bounce club was in 1 of the parking lots.
We're down to just a few local shows left, and we're unsure if we will attend any more or not this year.
.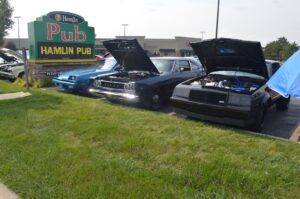 .
.