After some time, the overlay on your Buick shifter plate will start to do one of two things (maybe both):
1. either wear out from use
2. or fade due to the sunlight.
If you're actually noticing when this happens, that usually means you're thinking about spiffying up the interior (or a section of it at any rate).
It also means it's decision time on your part if you are going to replace this console piece.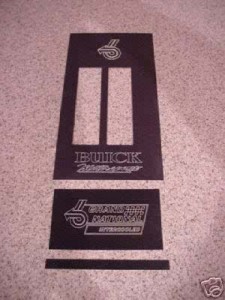 Do you keep it stock looking & buy a replacement NOS console applique?
(which is expensive "when" you can find them)
Or do you purchase one of the cool customized aftermarket units, styled with the turbo 6 logo or other assorted Buick monikers?
(some of the Buick vendors have these items)
.
.
Here's some other items if you're shopping for Buick merch:
(if you can't see them, turn off your ad blocker!)
Here's some related Buick items if you happen to be shopping for Buick merchandise! (if you can't see them, turn off your ad blocker!)
.