After some time and multiple uses, the chrome will probably fade or peel off the door lock knobs on your Buick Regal.
Stock replacements are available, as well as the ferrules (the surrounding ring) that encompasses them.
However, another subtle but custom touch you can add to your Buick Grand National, Turbo T, Regal T Type, Limited, or other Gbody vehicles, is replacing the factory door lock buttons/knobs with something a bit different looking than the factory versions that were there.
OEM style replacements (a set of 2) can be acquired for about $12.
Aftermarket custom versions run $10 and up, depending on style & material used.
Made from plastic or billet aluminum, with chrome, polished, carbon fiber, or molded in colors (black, silver, blue, red, etc) finishes.
Swapping them out is as easy as just unscrewing them and putting the new ones on.
[ but it IS important that you get the correct thread size, as GM used several different sizes! The TR's use a 10-24 ]
A 2 minute job can add a little zazz to your interior compartment.
Available from ebay, amazon, a simple google search, etc.
Here's a quick look at some we saw.
.
.
BLACK BUTTONS:
.
.
BILLET VERSIONS:
.
.
CARBON FIBER STYLE:
,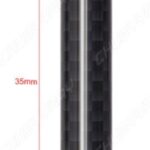 .
COLORED DOOR LOCKS:
.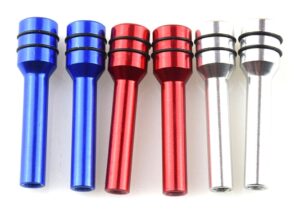 .
Here's some related Buick items if you happen to be shopping for Buick merchandise! (if you can't see them, turn off your ad blocker!)
.