We've created a few cool things in the past for our fellow Buick GN lovers, since we are pretty much like everyone else when it comes to these Gbody Regals. The things we find to be unique & cool coincide with the sentiments of other Buick Grand National owners and fans.
The last custom collectible we made (& most likely the last creation we will ever make as they're a ton of work to do!) is shown below.
We have just 2 of these limited edition sets left!
A complete set of 3 units, as shown, is just $125 shipped (in the conUS48).
If you'd like one, HURRY and be sure to CONTACT US HERE!
we will send you a paypal invoice.
*** IF THE ABOVE LINKS ARE STILL VISIBLE – THEN WE HAVE THESE IN STOCK READY TO SHIP OUT! ***
The details about this "1 of only 24" produced collectible:
.
3-unit LED Buick GN sign!
These come as a set of 3 pieces (all attached together via an electrical cord).
Front, side, rear views of a Buick Grand National!
Check out the Tri Shield logo and Happy the Hawk!
Realistic back-lit images!
Each sign has 8 LED lights in it, for a total of 24 LED lights in the set.
(see the pic for colors / quantity of each light).
Each sign measures 9″ x 9″ x 3″.
Frames are made of wood, and are painted appropriately red, black, orange.
(Buick Turbo 6 inspired colors!)
You can mount these on the wall anyway you like (there's hangers on backside):
horizontally, vertically, or diagonally, as shown in the first picture.
There is a 6′ long, 110 volt power cord, with an on/off switch.
** ONLY 24 numbered sets were created like this!
(you will receive a random numbered unit from 1-24 from our remaining stock)
AWESOME Turbo Buick wall art decor!
Looks great in your Turbo Regal garage, office, man cave, etc.!
A complete set of 3 units as shown is just $125 shipped (in the conUS48).
Again, ONLY 2 sets are left – DON'T Miss Out!
Here's your chance to own a very neat limited edition wall art piece!
WHAT A COOL CHRISTMAS GIFT THIS WOULD MAKE!
(even if you buy it for yourself!!!)
.
Details about the set:
.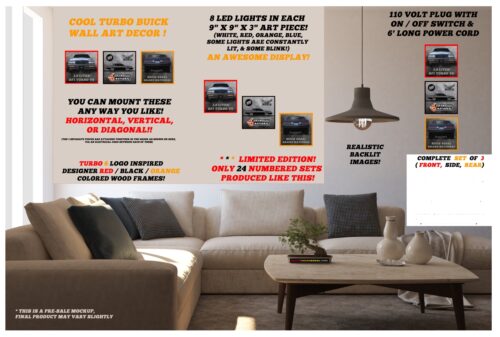 .
Comparison, (top) lights off, (bottom) lights on!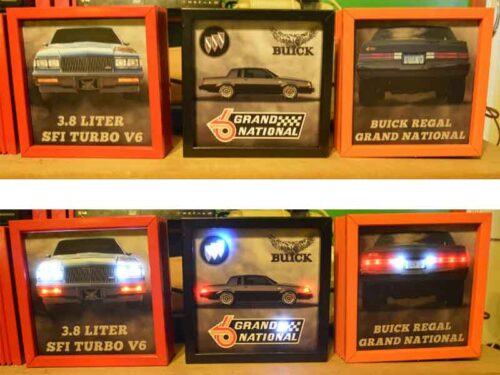 .
Close up of 1 of the units:
.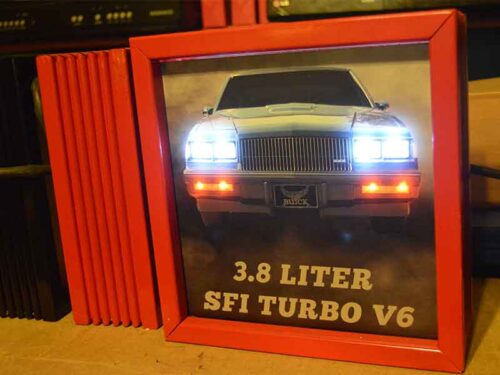 .
Sample Numbered COA on the back:
.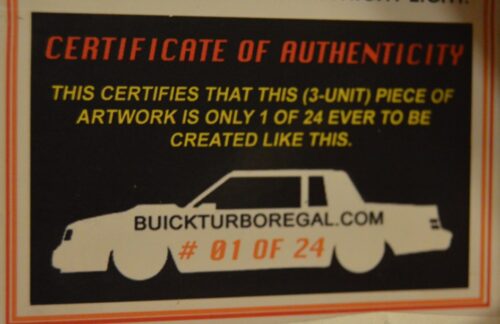 .
watch this video to see the LED lights do their thing!
.
.
> If you'd like a 3-piece set, HURRY and be sure to CONTACT US HERE! <
.