While browsing ebay one day I spotted a cool looking MAF Translator Lid. Not only was it a custom crafted billet aluminum piece, but it had the Buick Motorsports moniker engraved onto it.
Sweet piece, I thought. I'm always looking for shiny new bling to make my Turbo Regal engine compartment look better, and stand out in the crowd amongst the other Buick Grand Nationals out there.
Searching thru the sellers "other items" I discovered a few other neat items made specifically for Turbo Buick owners.
Billet aluminum fuel pump & EGR block off plates, engraved with the Power 6 symbol, intake plenum spacers (with or without vacuum ports, and any size holes), etc.
A quick google search led me to his website where I was checking out what else this New Carlisle, Ohio business did.
Along with the Buick parts, they make fidgit spinners, and a variety of firearm reloading trays.
Their business name sounded familiar (Regal CNC), and I realized I'd seen some of their videos & products on Facebook.
Cool, looks like they've been around for a long time, and know what they're doing.
Not to mention they're another Buick parts vendor to choose from.
I decided to ring them up and chat a bit about things.
I spoke with Jason Rigsby from Regal CNC, who tells me they do all sorts of custom CNC machining for a wide variety of items.
They also can do custom logo engraving using a customer supplied dfx/jpg file.
It was an interesting 45 minute conversation talking about the stuff they do, all the parts they make, and trading stories back and forth, along with his racing experience with his own 1987 Buick Grand National.
(so not only does he make items for "our people" – but he IS "our people" as well! Isn't it great when the parts you buy come from someone with actual experience with these Turbo Regals? Someone who "gets it" knowing what looks good and works well too.)
OK, so initially I was interested in the MAF Translator Lid with the Buick Motorsports logo on it.
I ended up getting a cool fuel pump block off plate, EGR block off plate, both engraved with the familiar Power 6 logo, and a 1″ intake plenum spacer with the vacuum ports (5 of them), since somewhere down the road I want to convert to blocking off the vacuum block on top of the engine and having the lines semi-hidden.
I like brushed aluminum, so that was my selection of choice, but all these items are available in other finishes as well.
.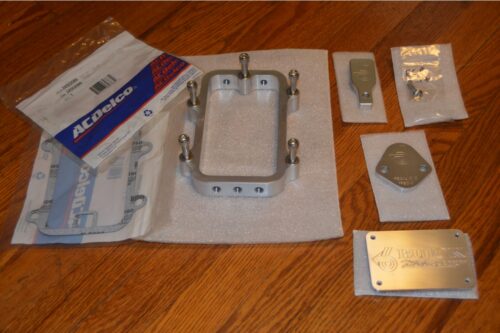 .
If you want to check out all Regal CNC offers, click the banner below.
Questions can be directed to his email: info@regalcnc.com, or calling 937-710-0501.
With 20 years of experience, if you're in need of custom machining, inquire!
.

.
My package of new bling bling goodies arrived via Priority Mail.
They look fantastic! Quality stuff!
(packed well, nice items, priced right, friendly service, what more could you ask for?)
First thing, off came the original lid of the MAF Translator and replaced with the brushed aluminum version!
A simple 4 screw removal & reinstall was required using a tiny phillips screwdriver.
.
.
Next up, the EGR block off plate.
Just 1 bolt holds it on.
AND they supply you with a brand new hex head bolt for this purpose!
[ Jason says: use copper rtv, no gasket, & snug down to achieve a no leak seal ]
.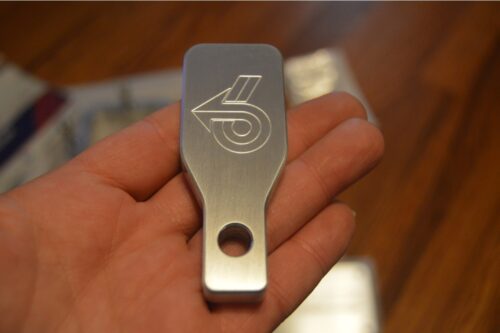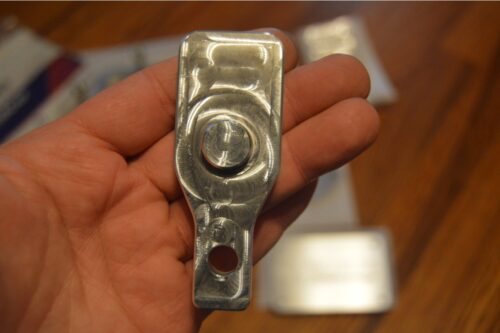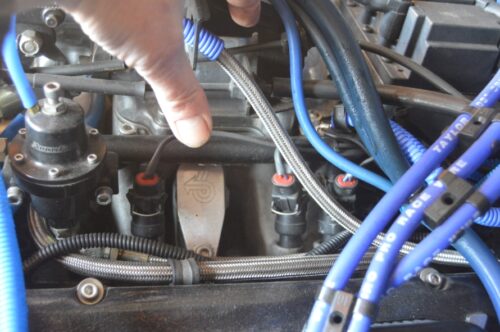 .
The fuel pump block off plate is the final add-on bling piece for today.
2 bolts attach it in place.
It's located on the driver side of the Buick 3.8 liter v6 turbocharged engine, on the front cover.
(You can see it from the drivers side wheel well, look towards the front of the motor.)
Getting to it while your motor is in the car is challenging.
The alternator, power steering pump, amongst other things are kind of in the way.
Reach down and towards the front of the G-body Regal to access it!
(It might be easier to replace it working from the bottom of the car. It's above the crank sensor & wiring)
Remove the OEM bolts and original plate, clean the surface, attach the new cool looking plate, reinstall bolts.
This is one of those parts that aren't highly noticeable, but for those who take a minute to actually "look" at your G-body Regal engine compartment at car shows, it's there (if they look hard enough!).
(Besides, YOU will know it's there. I have many custom parts on the Buick GN that others never even notice, but "I" like them, so that's all that matters, and "I" know they're there.)
.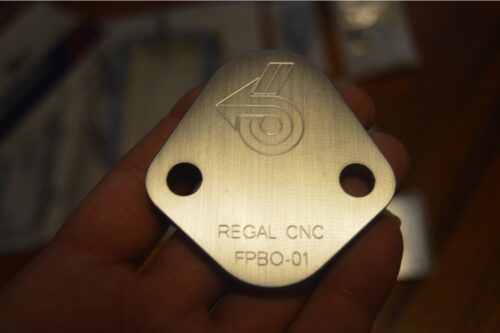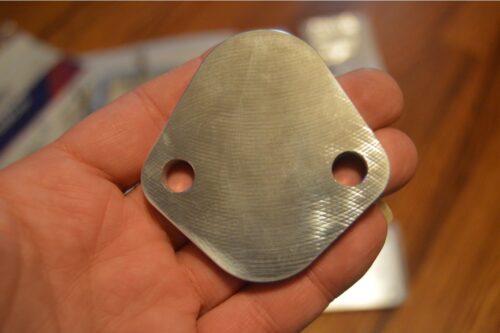 .
Sometime in the future I'll get around to installing the 1″ intake plenum spacer with the 5 (1/8″ NPT) vacuum ports (to replace the octupus looking factory location vacuum block on top of the motor).
It's awesome that along with getting the spacer, TWO new AC/Delco gaskets are also included! AND 5 new bolts (& washers) as well for the install!
(meaning it's all ready to install upon arrival, no searching for extra parts you may need)
.
.
An engine compartment cleanup is due on this 1987 Buick Grand National.
That area will be getting prettied up this year since front & rear suspension components are done, the interior is good, and we did the trunk section a few months back.
.
Final Review:
If you like the look of these parts as much as we do, you'll get a hold of Regal CNC!
.
.
.
.
The vendor shown above has supplied us with the parts we used in this project, per our request. If you are looking for similar parts, don't hesitate to inquire with this specific vendor!
.
.