Continuing on with our look at various dash gauge setups for the Turbo Regals, today we check out all the different package versions from Dakota Digital (they offer several variations, in both analog and digital and a combination of both style appearances).
The Dakota Digital dash setups will fit 1984 – 1987 Buick Regal and Grand National (without boost gauge).
Available for about $1400 (RTX), $725 (VFD3), $825 (VHX), and $1400 (HDX), (all found on ebay), this is an alternative to the stock gauge cluster that came from the factory.
All of the different versions Dakota Digital offers are available in white, red, green, or blue colored lights.
Some have a choice on the face color (black, silver).
Probably not a good idea to swap these (or any other aftermarket units, for that matter) into a Buick Grand National considering the value of those Turbo Regals are best left as stock as possible.
For a base Regal or a renewed basket case or a custom Turbo Buick however, these can be a cool new updated addition to the interior.
The RTX is a Retrotech Analog Gauge System, which is mostly stock looking, with some digital gauges incorporated.
.
.
The VHX series (VHX-84B-REG-K-W) is analog style with sweeping gauges.
.
White readouts (both analog and digital gauges):
.
Blue readouts:
.
Silver faced gauges:
.
The VFD3 package is fully digital readouts for all gauges:
.
.
The HDX gauges are analog, with a center digital readout section:
.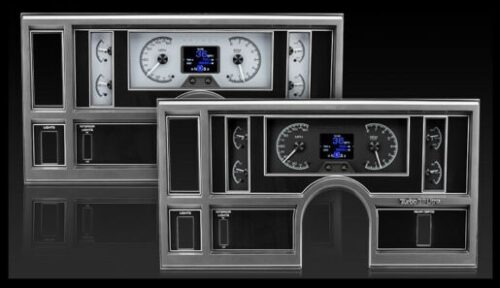 .
All gauge systems require the use of the factory bezel. Bezel is NOT included when you buy the instrument cluster.
Full 6 Gauge Instrument System fits into OEM bezel and uses OEM mounting hardware for 1984 – 87 Buick Regal.
Lighting – Back lit technology is popular with performance instrumentation due to precise lighting allowing you see what is truly important when you really need it at a quick glance. Each number, tick mark, annunciator, needle, indicator and digital message center is lit by a series of LEDs behind the gauge face. Auto-contrasting LCD display for optimal view in the brightest of sunlight.
Performance Meters included in some models:
0-60 MPH Timer (0-100 kmh)
1/4 mile time
1/4 mile end speed (trap speed)
High speed recall
High RPM recall
Most, if not all, of the necessary senders are included in all of the gauge packages.
.
Here's the Dakota Digital Dash (84-87 Dakota Digital HDX-84B-REG) being installed in a 1983 Buick Regal:
.
.
GM EFI Magazine installed this Dakota Digital gauge setup in a Buick GN, here's their initial test video after it was installed, and functioning:
.
.
Be sure to come back tomorrow and see the Cyberdyne Digital Dash setup!
.