The morning was good here on Saturday, August 12, 2023.
Then about 1:30 the rain swept in for a bit.
Luckily we missed that as we were on our way to the next event of the day ("Down on Main Street Car Show" – see the pics tomorrow).
The Gasoline Alley car show in Utica, Mich., is always a mixed bag of a variety of autos that participate (which is always a good thing).
A few different car clubs are present with their members rides, the Jeep club spreads out over a hill (as what else would you expect from them?), then there's pickup trucks, newer stuff, older stuff, and a variety of classics from mild to wild.
A swap meet area and places for food (both bars/restaurants and tents/stands) are spread out, making this a great venue area for just about everyone. There's something here to please no matter what your specific tastes may happen to be.
For us, we saw a couple Turbo Regals, a few G-bodies, a few A-bodies, a few older Buicks, and now we're happy.
.
We hope all the photos of all these various automotive events we always attend will inspire you to go check them out for yourself if you haven't before. And bringing your ride (whatever that may be) would be a good thing too!
.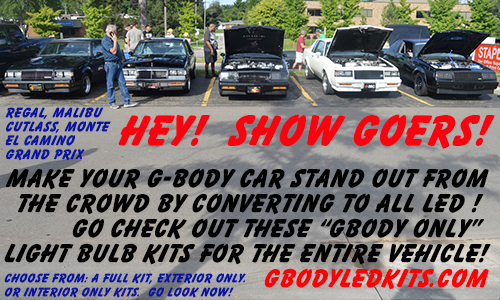 .
.