It's Car-B-Q time!
If you've never been to one, or don't even know what that means, it's like a regular barbeque, generally held at someone's house, but the owners automobile buddies gather and have their own little car show.
This Saturday, Sept 17, 2022, is exactly when this event occurred.
In Ray Township, Michigan (near North Avenue & 27 Mile Road) 20 or so hot rods & muscle cars got together for a small private car show.
Anthony Albisani was our gracious host for the day (& into the evening).
Desiring a group hang with other Turbo Buick guys (plus some other makes and models, along with a few other family members & friends), he decided to invite a bunch of people over to his cabin for an event he dubbed the "1st Annual Heartland Homestead Car Show."
Below we show you what vehicles participated for this years CarBeQue.
(and it was pretty amazing that there were 3 WH-1 Regals here! It could have been 4 but 1 didn't make it.)
The outdoor setting was splendid, the food was good, attendees voted for best cars (with 2 trophies handed out), the conversations were stimulating, and the photo opportunities excellent. A great car-b-que for sure! What more could you ask for? Can't wait for the next one!
[ Thanks Tony & Jen ]
.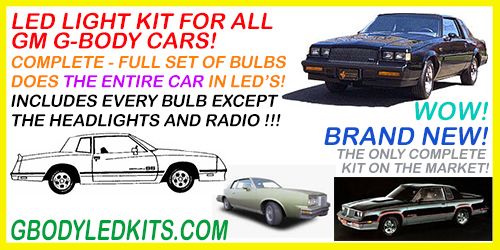 .
Pictured left to right: Jeff (car show winner, 1966 Mustang), Jen (Tony's wife), Jen (car show winner, 1972 Chevelle), Tony (the host for today's event), Jody.
.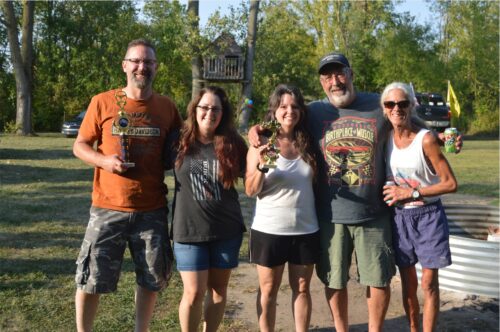 .
Tony's 1986 Regal T-type (wh1):
Tony is a fellow Turbo Buick owner & has had his Gbody Regal for a little over a year.
"Stanley" is on the front license plate of his Turbo Regal, named so in dedication to the original owner. Tony rescued this car from a family friend who had it sitting in a barn for many years, which was originally a (two-tone black/grey) WH-1 model. It was first painted yellow, then red, it's currently in a state of metallic blue. The original paint scheme is on the agenda sometime in the future.
.
.
Jen's 1972 Chevelle:
For which she won 1 of the 2 trophy's for the event.
And yes, this is a woman's car, but make no mistake, Jen drives hard, you should have heard the huge burnout she did when she left!
.
.
Jeff's 1966 Mustang:
For which he won 1 of the 2 trophy's for the event.
a 289 cubic inch engine is within, coupled with a 4 speed trans.
Jeff says it's only slightly built… we heard others say it has 600 horsepower!
.
.
Russ, 1986 Buick Regal T Type WH1:
.
.
Bernie, 1986 Buick Regal T Type WH1:
.
.
Greg's low mile 1987 Buick Grand National:
.
.
The BuickTurboRegal.com 1987 Buick Grand National:
.
.
A 1970 Cadillac, with some different looking wheels on it, only 500 sets were made, they're Japanese!
.
.
1966 Plymouth Belvedere, with original (metallic blue) paint!
.
.
A newer Pontiac GTO, 1 of the numerous vehicles this guy owns! (including a WH1 Regal!)
.
.
Ford Super Duty Truck, with a dozen or so train horns stuffed up where the spare tire should be! If you're looking for a way to get those a**holes out of the way… this should do it!
Also, to note, there's a message on the instrument panel that reads:
"Remember stupid, you have to drive this home"
.
.
Landon's 1964 Dodge Polara 500, with a 440 in it. This is a semi-famous car, it was 1 of the automobile swaps that the "Road Kill" guys did on their show!
(2022, Road Kill season 10 episode 126)
.
.
Lexus:
.
.
Mustang:
.
.
Car shows nowadays almost always require at least 1 newer challenger or charger in their midst. This one was no exception! A Beautiful blue Hellcat joined in on the festivities.
[ as much as we love our Buick GN, if anyone wants to trade straight up for one, we might be game… sorta serious, sorta not… ]
.
.
And the rest of the photos we took from the event:
.
.
And of course, when people leave a car show, there is a standard requirement to be performed. Some homeowners despise it, but the Albisani family just giggles and cheers them on!
(this is the Roadkill car below)
.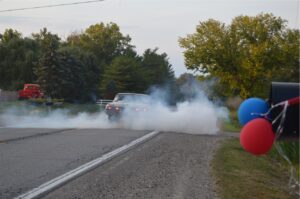 .