Sure, it's not everybody's cup of tea, but as owners of cars, you're allowed to do whatever you like to them, since they're yours.
That's part of what makes "hot rodders," well, hot rodders.
Swaps, mods, changes, all have been done since the very first automobile was created.
As it was yesterday, shall be today and evermore.
You don't have to like it, but you should respect the (8 month build time) craftsmanship that went into it.
Things like installing a modern (Cadillac) ATS-V swap under the hood.
Which has been converted to a single turbo with a custom turbo shield.
The beautifully detailed engine bay has a bunch of special touches too.
Other mods include:
Putting racing pins in to hold the hood down.
A custom carbon fiber aerodynamic front fascia air dam.
The front fenderwells, hood, rear spoiler and rear bumper are also made from carbon fiber.
Modding the dashboard and inserting more comfortable seats.
Badging it with specially made Grand National emblems.
And a roll bar for safety's sake.
Kevin Hart brought his newly finished car out this past weekend and parked it in the Magnaflow spot at the 2022 SEMA show in Las Vegas.
[Kevin isn't new to Turbo Buicks, he also owns a Buick GNX]
He named this new car "The Dark Knight."
This Gbody Regal was built by Salvaggio Design (who has created a few other vehicles for the comedian), and Sean Smith Designs.
There were a few other partners for this build:
Magnaflow, HRE Wheels, Gabe's Custom Interiors, Gear Head Fabrications, Brembo, Image Detailing, BASF Refinish, Plastic Cup Boyz Car Club, and Ogden Chrome.
.
[ Photos below from Magnaflow's blog, see more here: https://www.magnaflow.com/blogs/magnaflow/magnaflow-debuts-the-kevin-hart-collection-at-sema-2022 ]
.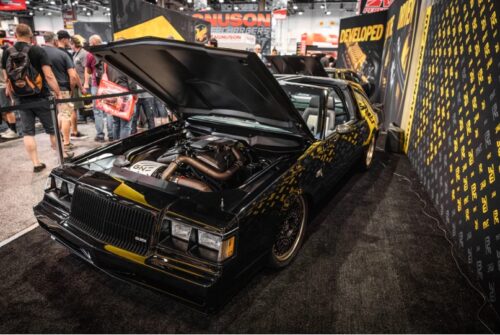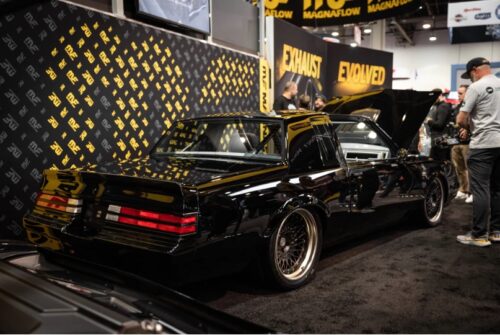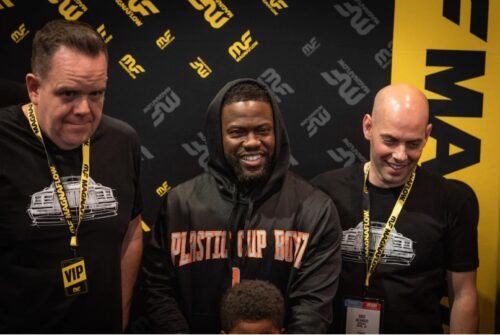 .
Check out the unveiling video of this t-top 1987 Buick Grand National!
(notice the crew are all wearing special Dark Knight shirts)
.
.