Big rims, low riders, loud music, donks.
If this is your scene, this is the annual event you need to attend.
Saturday, May 27, 2023, brought the yearly Memorial Day Showdown to Dearborn, MI, presented by The Car Doctor.
Held at Gateway Classic cars this time around instead of the past venue they've been using (previous shows).
Hundreds of participants, sporting various type automobiles filled the numerous parking spaces in this strip mall / industrial type complex.
Regardless if these vehicles are your cup of tea or not, you have to admire the craftsmanship, parts and gadgets, not to mention the huge expenses that go into creating these cars.
Rucci rims, gold, silver, and custom made billet aluminum pieces, specialty paint jobs, etc., etc.
Any hot rodder should appreciate the well done work performed to get these autos looking like they do. Most are not just slapped together clapped out clumps of metal.
All forms of customization can be learned from, as the aspects of assembling these machines is pretty universally applied to whatever type of car you may have, although the parts may be slightly different depending on what it is you're actually building.
This car show is one that we fully enjoy every time we attend.
You should check it out sometime!
[Neighborhood Superstars has a Facebook page]
There were a couple Buick Grand Nationals here, as well as some Regal t-types, and many other GM G-bodies. Check out the Buick GN with the silver plated GNX style wheels (we've seen gold, other colors, and even polished versions, but not chrome before, they look good!).
We've attended some smaller car shows this year, but this is the first bigger event.
We pretty sure it's going to be an awesome one from here on out!
.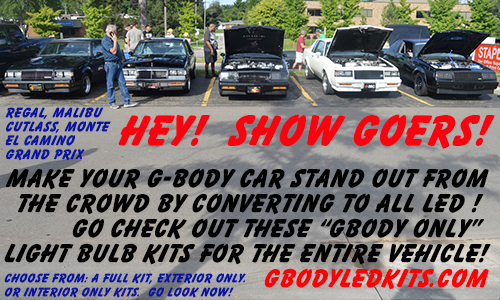 .
.