The annual meetup for Michigan Turbo Buick people (and the few who come from surrounding states) was held on August 17, 2022.
This pre-Dream Cruise gathering, appropriately known as "Woodward Wednesday," has been a traditional event for decades (although the venue has changed from the Moose Lodge years ago, to now across the street in the Staples parking lot).
The just North of Square Lake Road, on the west side of Woodward Avenue, meeting spot is where you'll see all the Buick Grand Nationals, Turbo T's, T-Type Regals, Buick Limited's, plus a variety of other turbocharged and miscellaneous cool vehicles.
As diehard Buick guys, this is the event of the year we totally look forward to.
Even with the weather being overcast (earlier in the day), and it raining pretty much everywhere EXCEPT for the Staples parking lot, there were a bunch of Buick guys that made the effort to show up for the 2022 Woodward Wednesday event.
(thanks guys, we appreciate everybody participating!)
This event has drawn up to 100+ Turbo Regals in the past!
For the pre-Dream Cruise annual event today, there were around 35 Turbo Regals who ventured into the lot during the course of the day / night.
(down some since last year, most likely attributed to the weather, not to mention 10 or so locals cars are down for various repairs)
A few other assorted Gbody vehicles attended as well, along with some older Buick autos.
Great friends, eye candy galore, cruising, what more could you ask for?!
Spotted in the parking lot:
Rick Hunt and his (white) GNX XRay Gbody appeared (that's Rick standing next to his car in the pics).
It's always fun and interesting talking to this man, his ASC experiences, the things he's done to the XRAY (lately, namely a new engine, and wow! his car sounds AWESOME now!) and lots more varied topics.
John Marecki's "Granny's Pacemaker" – a cool 1982 Pontiac Grand Prix with a hot motor (5.3 on nitrous)! This is a big time sleeper ride, complete with wire wheels!
(he just raced the GP in the Road Kill nights event this past weekend)
A twin turbo GN, a couple WH-1's (Russ & Bernie), a Turbo Trans Am, a white late '80s Z28 (with a turbocharged 3.8 Buick engine), lots of Grand National owners that we know, some we don't, and a few we met for the first time today, all gathered in the lot for a fun filled day.
Eli Daflyest brought his fabulous Grand National (this was the cover car from our Autorama 2022 post).
That "carbon fever" car (Buick GN) we first saw at the Downriver show earlier this year, was present (for which we got to speak with the owner this time around, cool guy).
Tim brought his red '65 Buick Special (with a super clean engine bay containing a Buick 3.8 turbo motor).
Kyle brought his neat (two-tone paint) 1984 Pontiac "Exciter" Grand Prix (this was the car that we did the headliner replacement in previously).
The Oakland County Sheriffs made their way into the parking lot riding their motorcycles all in unison, this was pretty neat to see.
(and no, they didn't come to get any of us!)
Since this is a public parking lot, there's always other sweet cars that share the space (we show you some of them), or pop thru the lot in a drive by, checking out the other rides within.
See all of the automobiles mentioned above (plus the numerous others) within the 125+ pics below!
We took a quick spin down Woodward and we did see 6 other Buick Grand Nationals (by themselves) in a few assorted lots.
The Woodward Dream Cruise is this Saturday, and we will be there also, so if you're cruising down the avenue in your Turbo Regal (or any of the other assorted Gbody cars) and you see someone taking pics of your vehicle, be sure to smile or wave as you drive by, it's probably us taking the pics!
.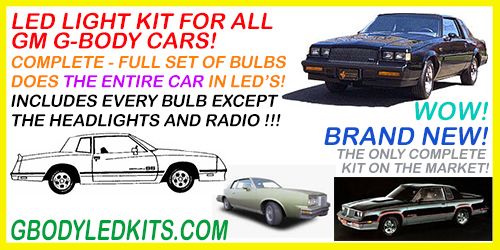 .
.