As rare as this specific Turbo Buick was, the advertising for them was just as limited.
This 1981 Buick Regal started off life as a Limited model, then it was treated to a lot of special options.
Car features:
Two tone exterior paint.
This Limited Edition paint treatment, consisting of a deep toned metallic dark Sandstone (code 69) with fine striping tops off the elegant lustre of the metallic Camel sides (code 34, which was normally only available on the Riviera)
A custom luxury interior, with a plush velvet look, the Camel cloth seats and trim is framed with special dark brown piping and special dark brown deep pile carpeting.
Special painted turbine wheels, featuring center Camel color accent paint.
Front lower side cornering lights were part of the Limited Regals, and other options were also available, things like side opera lights and more, for an extra cost, on select models.
The Buick Regal Somerset II was truly rare as far as production numbers were concerned, and we doubt very few exist today.
(we have seen 1, which was for sale, and in very rough condition)
Below we show you the only ad that was ever created for this special Buick Regal.
(and we have no idea where it was published, if at all, as we've never seen it anywhere, perhaps it was only printed and displayed in the Buick auto dealerships)
.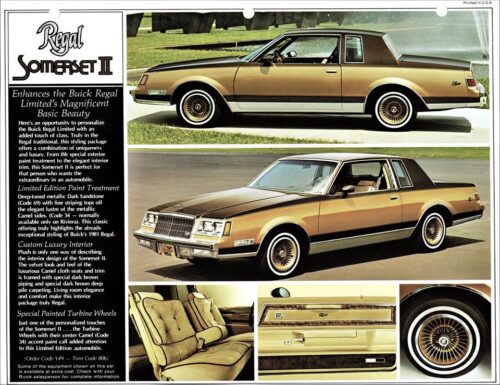 .
Here's some related Buick items if you happen to be shopping for Buick merchandise! (if you can't see them, turn off your ad blocker!)
.