Yet another car show that we haven't previously been to.
(this has been a good year for us to check a bunch of new venues out!)
Hearing 600+ car show vehicles usually attend, and good reviews from past participants, we made the effort to attend!
This was an unscheduled automobile event (for us) that we only heard about a few days ago, so the decision was made to see what all the fuss was about.
The 16th annual ARMOR Great Pumpkin Classic Car Show, was held in Howell, MI, at the Livingston County Airport, on Saturday, October 7, 2023.
It's dubbed as the biggest car show in Livingston County, and probably is.
As a matter of fact, there's probably not many other car shows (in ANY county) that get this many cars!
[car "cruises" being excluded, we've only been to 3 "shows" this entire year that have had this many vehicles in attendance! And there's not that many venues that could actually hold this amount of cars, either. Frankenmuth, MainStreet Memories in Port Huron, and the Packard Proving Grounds, are pretty much it. Maybe the Culvers or Bakers shows on a really great day…]
Todays weather was on the colder side (in the high 50s), and the winds didn't help, nor did the brief scattered minor rain that swept through the area a few times.
That most likely kept some of the usual 600+ attendees away from this event, with our guesstimate of somewhere 350-400 hot rods showing up for today's gathering.
Even still, what an excellent car show this was, we're glad we took the trip.
(it's now on our must attend car show list!)
A couple Turbo Buicks were present, a slew of GM G-bodied and A-bodied rides, plus a handful of older Buick models.
A good day for us, even with the just over 1-hour 1-way 64 mile trip (with some construction occurring, but it seems no matter what route you take, going anywhere this year, you almost always run into it in 1 spot or another).
.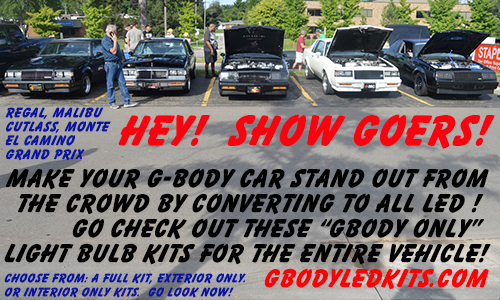 .
.