Held at the Pull A Part, 4433 W 130th St., Cleveland, OH 44135, on Saturday July 24, 2021, this 4th annual event, run by the Classic G-Body Garage (Brian Suter), assisted by Frank Hooks, Jr., is the yearly celebration of all GM G-bodied vehicles!
(and a shoutout to both of them for putting on a GREAT show!)
G-body cars include the Buick Regal, Chevrolet Monte Carlo, Malibu, and El Camino, as well as Oldsmobile Cutlass, Pontiac Grand Prix, Bonneville, and Le mans, plus the GMC Caballero.
There was a nice representation by all of these automobiles, but the dominant field (most represented cars) was the Olds Cutlass (all versions & models).
.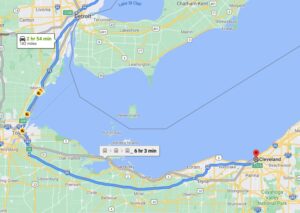 We made the very worthwhile 400 Mile (round trip) and (slightly more than) 3 hour trip from (a bit north of) Detroit, MI to Cleveland, OH.
The two-tone Pontiac "Exciter" (a 1984 Grand Prix) we drove down in handled beautifully, even in the rain we encountered on the way down!
(you'll see more of this car in the Pontiac post 3 days from now)
.
CGBG show event page:
facebook.com/events/125035642932968/
CGBG page:
facebook.com/gbodyclassic/
.
We're going to cover all of the G-body cars that were at the show in multiple posts (5 of them) so you can get a good look at each specific model that was at the event.
Todays post will show you all of the Buick Regals!
(because that's what this website is all about!)
Tomorrow highlights the Oldsmobiles (Cutlass, 442, Hurst Olds, etc.).
The next day we feature all Chevy vehicles (Monte Carlo, Malibu, & El Camino) and the GMC Caballero.
Then, all the Pontiacs (Grand Prix, Bonneville, & Le Mans).
Finally, all of the other cool vehicles (non Gbody) that attended, as well as random parking lot group shots, the trophy's and prizes that were given out, and more!
.
CGBG's "SCRAP National" is running and was there, see it below.
Also check out the very different sequential turn signals combined in a headlight on one of the Buick Grand Nationals at this event!
(we've never seen something like this, and the owner couldn't remember where he got them from, but did say that he originally ordered them for his Monte Carlo!)
.
If you'd like to see the other GM brand vehicles from the show, you can click the links below.
Chevrolet – Oldsmobile – Pontiac – Misc Other
.
SCRAP National:
.
.
The neat combination (switchback lights; white daytime running lights and orange sequential turn signals) that were on a 1987 Buick GN:
.
.
IF the notion of upgrading the lights on your Turbo Regal to something a bit more modern is something you've thought about, or that you've considering doing, check out this option: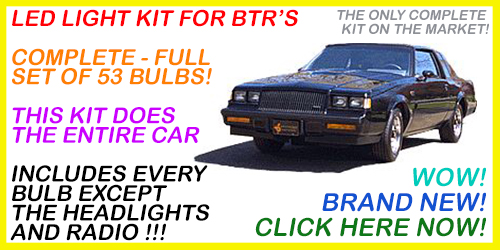 .
BUICK REGAL vehicles:
.
.
The Other 2 BUICK vehicles in attendance (both older cars, a Riviera & a LeSabre):
.
.