Continuing on from yesterday's post about the 4th annual (2021) CGBG annual G-body Classic show from Ohio, here are all the awesome Oldsmobile Cutlass (and a few other Olds) cars that attended the event.
As we previously stated, there were more Oldsmobile Cutlasses at this event than any other GM G-Body.
If you were unable to attend this way cool event, mark it on your calendars for 2022!
There's no better place to actually see all (and only) G-body cars in one spot!
(that's what we are into, so this show was exactly the type of place for us!)
(and that's why we intend on being at next years show!)
The neat thing about the G-body Classic is that all levels of "doneness" are welcome!
From project cars to show winning award vehicles, they all are worthy of being at this event.
(and if you're still working on yours, this is a great place to get some ideas from other peoples rides that you can implement on your own G-body!)
The Classic G-Body Garage (Brian Suter, aided by Frank Hoooks Jr.) not only organizes the event and makes sure the event runs smoothly, but there's trophies, door prizes, raffles, goodie bags to participants, and everything else you'd expect from a professionally run show!
.
CGBG show event page:
facebook.com/events/125035642932968/
CGBG page:
facebook.com/gbodyclassic/
.
If you'd like to see the other GM brand vehicles from the show, you can click the links below.
Buick – Chevrolet – Pontiac – Misc Other
.
OLDSMOBILE, CUTLASS, etc., vehicles:
.
.
Want to upgrade the factory lighting in your G-body to modern LED lights?
The below site can hook you up! (it's for all G-bodies not just Buicks!)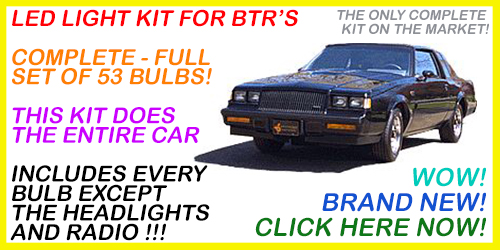 .