This category on the website [ Relays and Wiring ] we are giving you all of the information related to the individual relays in the Buick Turbo Regal, along with the associated wiring, connector plugs, etc.
.
VEHICLE APPLICATION:
Buick Regal, T-Type, Turbo T, Limited, Grand National, GNX
RELAY NAME:
Fuel Injector Hot Wire Relay
PURPOSE OF RELAY:
new relay supplies direct ("hot wired") power to the fuel injectors
(instead of relying on the stock 30+ year old wiring to fire the injectors)
TURNS ON-OFF / FUNCTIONS / USED WHEN:
in constant use while the engine is running
LOCATION IN VEHICLE:
varies, wherever is convenient, wherever you have room, custom area, etc.
(we put ours on a custom made panel that we made [because of the installation of GNX fender vents], on the drivers side, along with a couple other relays, in-line fuses, etc)
ORIGINAL GM PART NUMBER:
n/a
RELAY / BASE COLOR:
black
CONNECTOR PLUG COLOR (RELAY SIDE):
black
WIRES ATTACHED (RELAY SIDE):
n/a
CONNECTOR PLUG COLOR (HARNESS SIDE):
black
NUMBER OF WIRES ATTACHED (HARNESS SIDE):
4
COLOR & PURPOSE OF (HARNESS SIDE) WIRES:
[SEE the fuel injector hotwire kit we put on our Buick GN]
.
OTHER NOTES:
some companies (like racetronix) sell already made, simple plug-in kits.
(but it wouldn't be hard to make a DIY kit)
.
PHOTOS OF RELAY AND CONNECTED WIRES:
.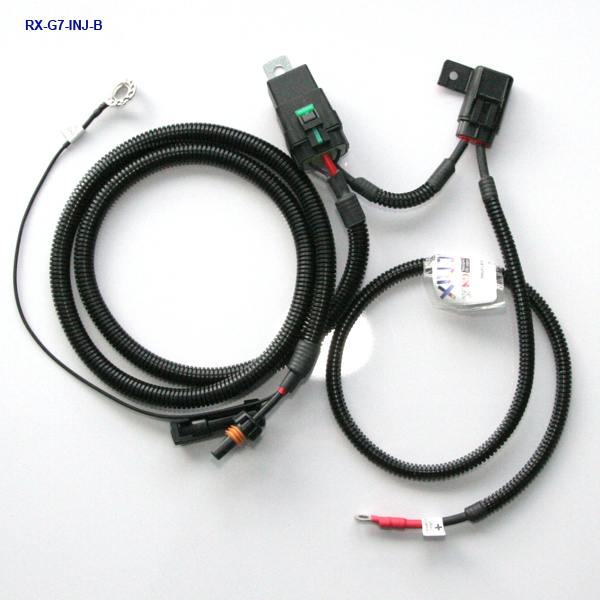 .
Here's a list of all of the relays in the Buick Regal:
(click the links to go to the one you need info about)
* Air Conditioning Compressor Cutout Relay (A/C Cut-out)
* Blower Relay (hvac fan blower motor)
* Coolant Fan Delay Relay
* Door Lock Relay
* Fuel Injector Relay (aftermarket)
* Fuel Pump Relay (factory)
* Fuel Pump Hot Wire Relay (aftermarket)
* High Speed Coolant Fan Relay
* Horn Relay
* Ignition Module Relay (aftermarket, hot wire kit for coil pack)
* Low Speed Coolant Fan Relay
* Power Antenna Relay
* Power Master Brake Relay
* Starter Interrupt Relay (part of Theft Deterrent system)
* Theft Deterrent Relay
* Twilight Sentinel Module Switch Relay
.