Jada has released 4 more Buick Grand National diecast vehicles in 1:24 scale.
Well, actually there is only 2 new cars (1 black, 1 red), but they are produced in 2 different boxes. One box says "Bigtime Kustoms" and the other says "Bigtime Muscle."
Under the Metals Die Cast name, this series features opening doors, hood & trunk, has a detailed interior & exterior, are made of diecast metal and have real rubber tires (along with a new style of wheels). Available in matte black (#30342) & candy red (#30343), these Gbody Regals are about 8.250″ long x 3″ wide x 2.5″ tall.
You can acquire them for about $25 (including $10 shipping) from a few vendors selling on ebay right now.
There are also retail boxes with 4 vehicles, that contain both cars, 2 of each in them. These cars are for impulse buys and do not come with any box when you buy them. (see the very last pic).
.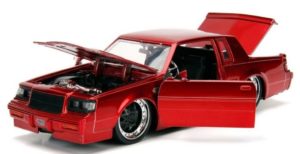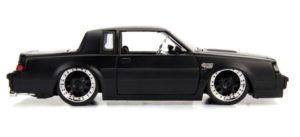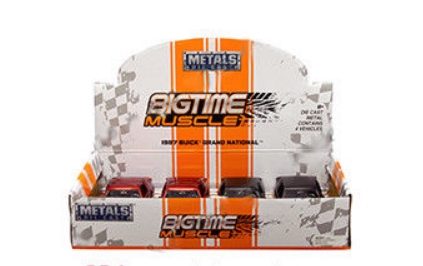 .
Here's some related Buick items if you happen to be shopping for Buick merchandise! (if you can't see them, turn off your ad blocker!)
.