Jada certainly capitalized on their license to reproduce Dom's Buick Grand National from the Fast and Furious franchise.
(as well as the Buick Grand National overall, in general)
Of course, Jada Toys has been pretty good to us diecast car collectors over the years, producing many vehicles starting from their Dub City and Dub Shop series (made about 20 years ago), in many different colors.
From the 1:18 size diecast Buick car to 1:24 scale styles (like this one and this two tone paint version), as well as the many other versions they have already crafted.
Other 1:32 scale models were made (Bigtime Muscle, as well as another previous metals die cast (but this last one was in 1:24 scale, and of the "BigTime Muscle" series).
Todays named "Metals Die Cast" Buick Grand National is a 1:32 scale version.
Same included car as some of the other versions in the Fast & Furious series had, but there's always multiple different window box designs on each of them. The background (back drop) of the box when you look thru the window has numerous different styles as well. This one has a speedometer (showing the current 150 mph, which is really fast for a Turbo Buick to be going! And that's IF a Buick Regal can actually get up that high, which anything but the TSO or TSM cars, or perhaps Bonneville Flats types of vehicles fail to do)
If you have to have all the different versions of DOM'S Buick Grand National made by Jada Toys, you can find this one on Ebay (although they are probably on the other popular online shopping sites too). It's being sold in the $25 range.
.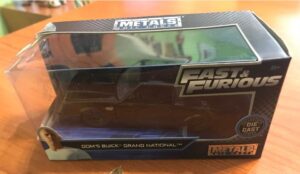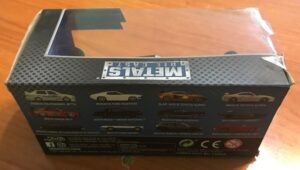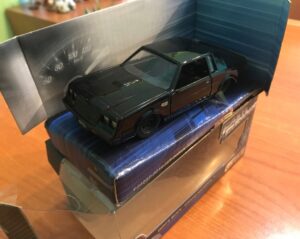 .
Another similar version of a 1:32 scale car, Dom's Buick GN:
.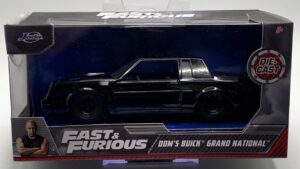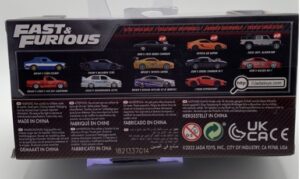 .
Here's some related Buick items if you happen to be shopping for Buick merchandise! (if you can't see them, turn off your ad blocker!)
.