This is our story about our two GNs.
My first new car was an 87 GN purchased as a single 24 year old.
I brought it home on Halloween in 1987 after a test drive and due to the good advice I received from a friend who worked at GM and told me this was a car I really needed to consider as my first new muscle car.
He was spot on about it being limited, a big hit as time went on and that it would be a good investment.
I began to purchase new parts for it 25-30 years ago before they went bad as I knew I would have the car a long time and in the last ten years it has been repainted and had a number of things done to keep it running and as much stock-appearing as possible.
I had to put more miles on it than I would have liked as a 20 and 30 something back in those days going to and from work and it now has 114,000+ miles on it.
The last six years we almost only get it out to go to car shows within the area.
I was fortunate not to be in any wrecks and to meet Bill Thompson a few years ago who gave me some great mechanical help and advice as the car had some issues from age and sitting for a number of years.
I was fortunate to learn of the GS Nationals and have been able to attend the last six of them.
This car actually won first place in the 0-3 modifications class car show in Bowling Green three times.
Forward to October 2019 when my wife (Grace) and I ran into someone who wanted to sell their non-running, beat up (owner had a bad temper) 1986 Buick Grand National.
We purchased it for our anniversary vs taking a vacation or making any other purchase as a "project car."
It now sits in HER SPOT in the garage!
We have basically taken everything off the car but the motor and cleaned it and/or replaced it and it was the perfect project during 2020-2021 during the pandemic.
We now have an alky kit on it and plan to run it down the track in Bowling Green and other local tracks in addition to taking it to car shows far and wide.
I want to say we feel very blessed to have met all the terrific Buick GN people both online, in person and in Bowling Green.
Jay Altmeyer
IN
.
Jay's first Buick Grand National has a license plate on front that says "Not For Sale"
The 2nd GN's plate says "Evil Twin"
Here's a few pics of each car, Jay and his wife, and the Buicks at some local car shows.
.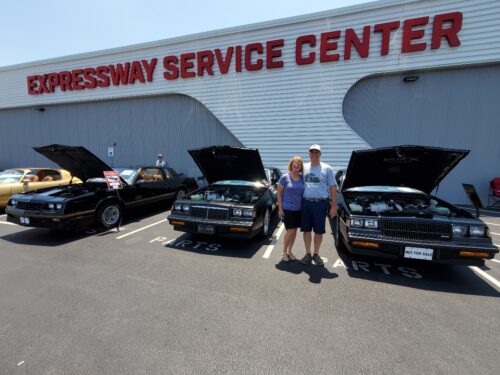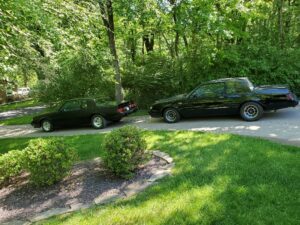 The 1987 Buick:
The 1986 Buick: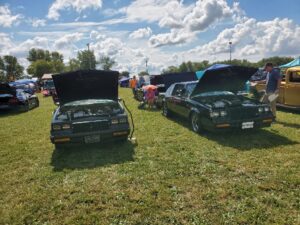 .
Jay has also made some useful products for his fellow Buick Regal owners – CHECK THIS ITEM OUT!
.
Do you own a Turbo Buick?
Want To SHARE your car pics with us so we can SHARE it with our readers?
DETAILS
.