We're making progress on this Buick Grand National that we've been working on now for 4 days in preparation of installing new UMI front upper and lower a-arms.
Today we're going to paint the wheel spindles, brackets and calipers, and add a cool turbo 6 symbol on the calipers!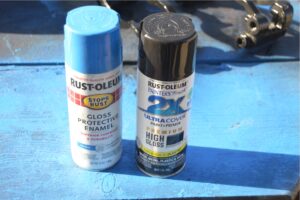 We bought 2 spray cans of paint (black and blue), plus a (dark blue) paint pen (for the 6 arrow). $5 for each can of Rustoleum (local hardware store) and $2 for the pen (off ebay).
We taped off the rotor (since it's still attached to the spindle) and shot it with the black.
Note that these are the upgraded (98-05 2WD) S10 Blazer spindles for the Buick GN.
Not only does painting them black make them look pretty, but it's a good rust preventative too!
.
.
The calipers came off a Blazer as well. It's a nice upgrade to do to your Turbo Buick since they have dual pistons. After all, who doesn't need better stopping power?
(and if you obtain the parts from a junkyard, it's an inexpensive upgrade as well!)
We painted the brackets gloss black.
The calipers themselves got done in blue paint (because it matches the blue scheme that's going on in this specific Buick GN).
While we waited for the paint to dry, we hopped on photoshop and made 4 turbo 6 arrows (spaced out evenly on a sheet of 8×11 paper), in a 1″ tall size each, that we printed out.
The sheet was then cut into 4 even pieces.
Then we used an exacto knife and cut out the actual 6 image, leaving the negative image on the paper.
That got taped to the caliper, and we took the paint pen & painted inside the holes.
When you remove the paper, you are left with a neat looking turbo 6 arrow!
(and in our case, a dark blue arrow on top of the blue caliper)
These calipers will look really cool, as they are going to match the rear calipers from the rear disc brake conversion kit that we are going to install on this 1987 Buick Grand National next week!
.
PAINTING THE CALIPERS BLUE AND BRACKETS BLACK:
.
.
ADDING THE TURBO 6 SYMBOL ONTO THE CALIPER:
.
.
While we were inspecting the calipers, we also took a look at the brake pads. Uggg. Slight cracking and fading, and they were about 3/4 worn, with an unknown age of last install on them. OK, so we ended up buying a new set of pads (98-05 Blazer) for $25 shipped (ebay).
.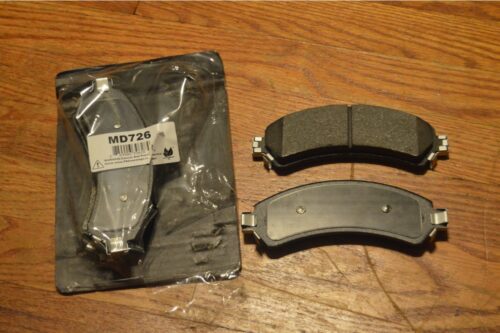 .
Since these parts were already off the car, todays job took about 2 hours.
(don't watch the paint dry, it's really boring… lol)
.
This weeks agenda:
1- Comparing Old OEM vs New UMI A Arms Before Install (Day 1 of 5)
2- Remove Old A-Arms on Buick Grand National (Day 2 of 5)
3- Prepwork Before A-Arm Install (Clean & Paint Frame, Install Spring Isolators, upper/lower Balljoint Swap, Replace Coilover T-bar With Sleeve) (Day 3 of 5)

4- Paint Front Calipers Brackets Spindles on Buick Grand National (Day 4 of 5)
YOU ARE HERE

5- Install UMI Upper & Lower A-Arms on Buick Grand National (Day 5 of 5)
.
DON'T MISS TOMORROW!
We're ready and finally going to install the new UMI Performance front upper and lower a arms!
Woohoo!
.