Revell Plastics GmbH, the maker of this 1:87 scale model, is based in Bunde, Germany.
There has been numerous mergers, acquisitions, and name changes of the Revell brand throughout the years.
Monogram, Hobbico, Quantum Capital Partners (QCP), a French toy company Generale du Jouet (also known as CEJI), Odyssey Partners of New York, Monogram Models, Hallmark Cards, Revell-Monogram, and currently, it's known as Revell USA.
The Praline series included a bunch of vehicles in the lineup, including this black Buick Grand National. The H. O. train scale plastic toy car looks mostly accurate for it's size. The interior is all gray, and the wheels aren't quite right, but if you're into trains and Turbo Buicks, this would be a cool addition to your display!
We saw this one listed on Ebay for about $15 shipped (auction style, with no current bids on it). The seller says it's new, (but was made about 20 some years ago), and it is enclosed in the original plastic hard case, which is always a plus.
These mini sized Turbo Regals don't come up often for sale, making them kind of rare (but not necessarily valuable).
.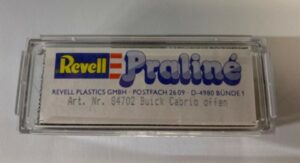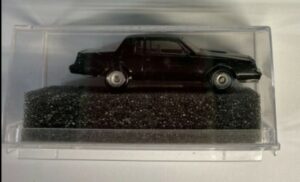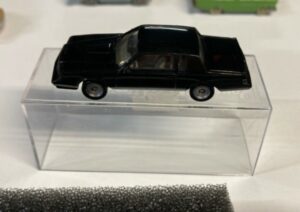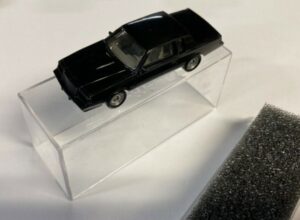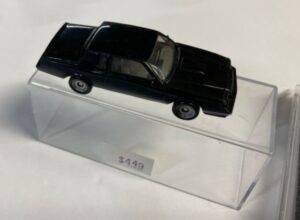 .
Here's some related Buick items if you happen to be shopping for Buick merchandise! (if you can't see them, turn off your ad blocker!)
.