The factory Buick 3.8 liter turbocharged engine came with a rather small AC / Delco PF47 oil filter.
While this is generally sufficient and gets the job done, there's definitely a better alternative.
And it's not just for upgraded high(er) performance motors.
The stock 231 cid powerhouse found in all models of the Buick Regal can benefit from this larger oil filter adapter as well.
RJC Racing produces some cool & innovative items (power plate, intercoolers, steering wheel horn ring, etc) and this is yet another one.
This Oil Filter Adapter, appropriately named "The Biggie" is just one of the many good things you can get for your v6 engine to keep it in tip top shape.
(it's also definitely one of the most inexpensive and easiest to install, too!)
WHAT'S THE REAL PURPOSE FOR THIS ITEM?
This will allow you to use a large capacity oil filter in place of the stock oil filter in the stock location. This increases idle oil pressure, has over 3 times the amount of filter media area and will help keep oil from continually bypassing the filter through the factory bypass.
AFTER INSTALLATION FILTERS TO USE:
FRAM PH11, FRAM PH25, AC PF24, NAPA 1258, PUROLATOR L30005, WIX 51258, Wix 51049, STP S25, DEUTSCH D431, Mobil 1 M1-203, Baldwin B9.
(and possibly others as well)
(any thread size of 13/16 – 16 "should" work, just be sure to check the overall filter length so it doesn't hit or rub on anything near it)
[we did some research and found out that a wix #51831 will work, it's the same diameter, but it is 7″ long, providing even more filtered oil than the above ones! you just have to make sure your specific application has the room for a 2″ longer oil filter than these other stated ones that are 5″ long. Note that this very large filter runs about $30 however, but might be worth it if you need this extra size]
(also note that when you switch filter sizes, you should MAKE SURE that the rubber o-ring on the filter seats properly on the mount! Measure the diameter of the new o-ring to the stock one & compare! There's not a lot of extra material where it sits, and if it's too large, it will leak!)
(any of these specified oil filters are MUCH larger than the factory supplied version)
.
We've had the original type oil filter on the '87 Buick GN for a long time.
It was suggested to us many years ago to upgrade to this simple piece, but other things always seemed to get in the way, and we kept putting it off (or forgot about it).
(had we actually realized how quick & easy it is to install this item, we would have done it a lot sooner!)
(HINT: get the part now, wait until it's time for your next oil change, spend the 5 minutes it takes to put it on, then continue on with your regular oil change duties! Just remember to not get the normal sized filter you are use to buying!)
.
.
RJC Racing offers 2 different types of these adapters, depending on whether your Gbody Regal still uses the stock oil cooler or not.
(see pics of each of them below)
The original version adapter, is for cars that are running the stock oil cooler.
("Stock Oil Cooler Oil Filter Adapter")
The NEW version adapter, is for cars that do not run an oil cooler. This will allow the use of any of the big filters (listed above) on any car that uses the factory type / size PF47 (or similar) oil filter.
("No Oil Cooler Oil Filter Adapter")
.
The original Biggie Filter Adapter is on the left (1st pic), the no oil cooler filter adapter is on the right (2nd pic).
.
.
The "No Oil Cooler Oil Filter Adapter" is the version we acquired (since the stock oil cooler assembly parts on our car were all removed long before we got the Buick Grand National).
SPECS FOR ADAPTER:
13/16″ OD, and 11/16″ long, is the size of this new oil filter adapter piece.
(the original stock threaded adapter is 21/32″ OD)
.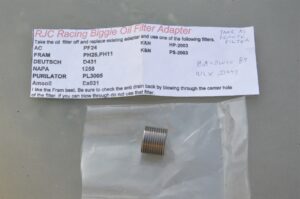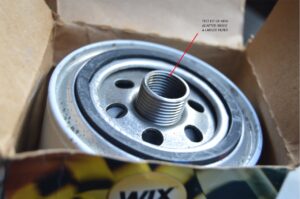 .
SPECS FOR OIL FILTERS:
The new filter (at least the 1 we measured, a Wix 51049) was 3 5/8″ wide by 5″ tall, whereas the old filter (a Fram 3980; OEM sized) measured 3″ wide (diameter) by 5″ tall.
This might not sound like a big difference, but filtering wise, it's a huge difference!
.
.
PART COST:
– $29 or $36 (depends which version you get)
(we got the "No Oil Cooler Oil Filter Adapter" version, $29)
[RJC also has an oil cooler housing o-ring if yours needs replacing, $10]
– a dab of thread locker (to keep the new adapter secured to the original one)
just fyi, if done at the same time as (a normally scheduled) oil change:
– oil filter (prices for a bigger filter are mostly about the same as the stock filter, maybe slightly more depending on the brand / size you buy)
.
COMPLETION TIME:
– about 5 minutes
.
TOOLS:
– oil filter wrench (to remove your old filter off the Buick 3.8 SFI engine)
.
The below shows you a closeup of what the factory oil filter mounts to (on the engine):
.
HOW TO:
[remember, this is for the no oil cooler version, the original Biggie Filter adapter is slightly different in how you install]
.
1. Remove old oil filter.
2. Place a dab of thread locker ON THE INSIDE of the new adapter.
(you could also put it on the outside of the factory threaded adapter)
.
3. Use a rag and thoroughly wipe off any oil on the stock adapter.
Screw the new adapter onto the existing threaded adapter.
(as far up as it will go, hand tight is fine as long as it sits at the very top – the thread locker will hold it in place)
(the outer end of the new adapter should be pretty flush with the end of the stock adapter)
Wipe off the outer end of any excess threadlocker that may squirt out of the end.
(we let the thread locker dry overnight before proceeding, but it's probably ok to continue on, your call)
4. Screw your new oil filter on.
That's all that's needed!
Your turbocharged Buick engine thanks you!
Now you just have to remember that for all future oil changes you have to use the larger oil filter size!
(silly as that sounds, if you've been accustomed to using a stock filter for a really long time, you've been mentally programmed to keep using that one!)
(it might be a good idea to already get rid of any factory sized filters you have, and when you buy the new larger sized version, get 2 of them NOW so you don't forget to install the Biggie version later! It'll be sitting in your garage waiting to be used next time…)
.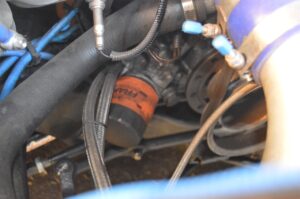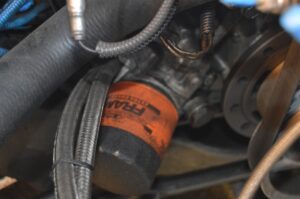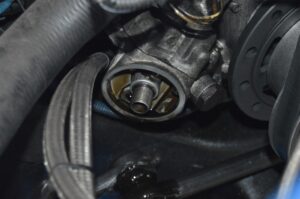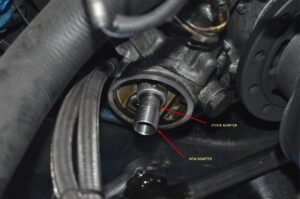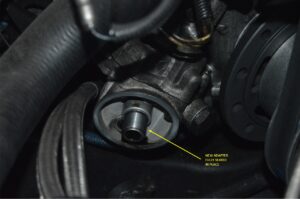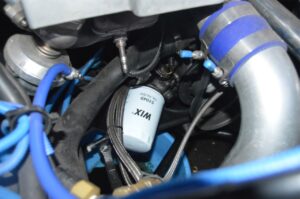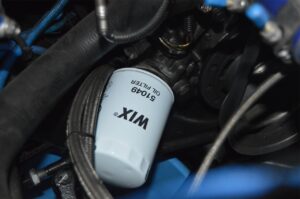 .
Here's the link again to check out or buy this item: RJC oil filter adapter
.
.
.
.
.
.
.
The vendor shown above has supplied us with the parts we used in this project, per our request. If you are looking for similar parts, don't hesitate to inquire with this specific vendor!
.
.