Wild to mild custom touches done to the exteriors of the Buick Turbo Regal.
From big cowl hoods, big front air dams, mirrored hood liners, and more, today we explore some wild add ons that were installed onto various Buick Regal Grand Nationals.
Will these pics inspire you to modify your own Buick Regal?
Some people like them (obviously), some prefer completely stock.
The choice is yours, since it's your vehicle!
.
COWL HOOD (with custom vents!):
.
.
FRONT AIR DAMS AND FOG LIGHTS:
.
.
CUSTOM HOOD LINERS (raised letters, and mirror finishes):
.
.
BLUE DOT TAIL LIGHTS (a very old school mod!):
.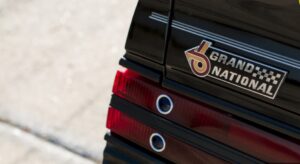 .