Yesterday we posted about the 1984 Buick Regal Presidential Series car, and we found a 1986 version too (today's pics), so we decided to again try to do some research about these limited run Gbody Regal vehicles.
Unsuccessfully though, as was the same way a few years back when we tried to find out some more details about the Presidential Edition.
There just isn't really any information about this special creation out there.
Most likely created down in the southern part of the United States.
(there's been a few other limited edition series Buick Regals created in the past for the Southern market)
The details we do know about these special editions:
– 500 cars were created.
– Uses a Regal Limited as the base car.
– has a 5.0 Liter engine.
– special "Presidential" badges on the c-pillar.
– the dash has a special "Presidential" badge on it.
– coach lights (opera lights) are included.
(these lights were another rare option on the Limited Regals, but all of the Presidential Editions we've seen have them)
– some of these cars had the rare optional front lower side cornering lamps.
(but could be a random thing, as not all Limited Regals had these lights)
– blue interiors were on all of the cars like this that we have seen (for both 84 & 86 models).
– wire wheels have been on all of the cars like this that we have seen.
– special padded roofs were added with a wide chrome strip at the front.
– the 1986's were black on the exterior
(the 1984 versions were white, or silver)
– this specific car shown in the pics here, has a continental style spare tire mounted near the trunk.
(not all Presidential Editions had these)
The other 1986 Presidential series Regal we featured previously on this website can be found here:
1986 Presidential Edition Buick Regal
.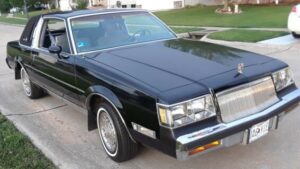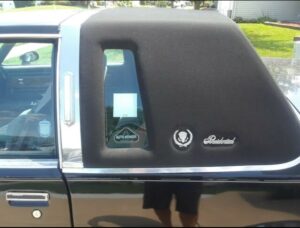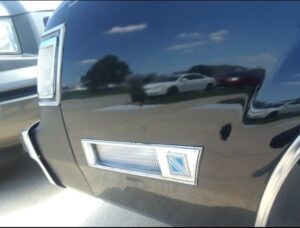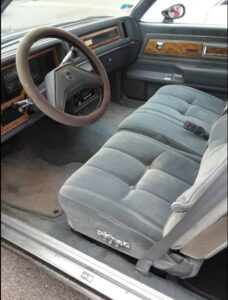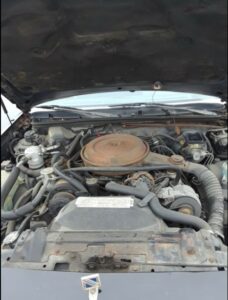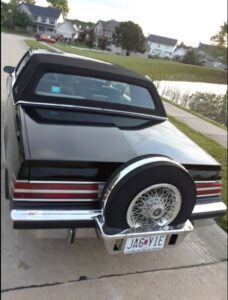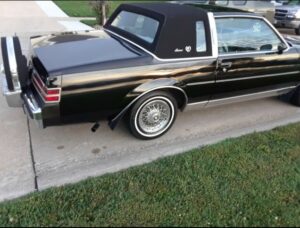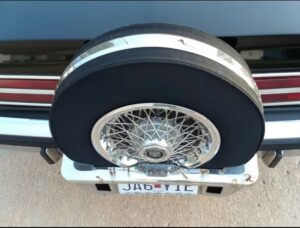 .