Awhile ago, we ran a story about a very cool and unique Right Hand Drive Buick Grand National that is currently in Australia.
(click that link if you want to see more pics on this unusual Buick GN)
We recently spoke to the owner (Rocki Dobra), who shared with us these details about this specific Gbody Regal, that we're now passing on to you, as how often do you actually see something like this?
(hint: the answer is never! This is probably the ONLY RHD GN car in the world!)
.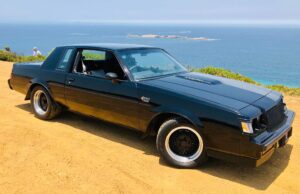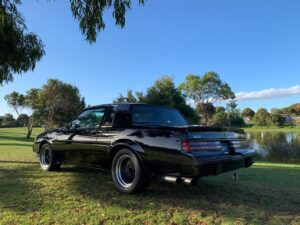 .
[did you notice the legal European style "orange tail lights"? and the dual exhaust both on the drivers side?]
.
Rocki says:
I have spoken to the original owner / importer to Australia, he changed the wheels & put the GNX license plate on as he had plans of making a Buick GNX clone out of it.
He also mentioned the conversion was done by a company here in Perth, Western Australia, back in 1993.
It took 6 months and cost approx $15000 AU dollars [about $10k U.S.].
State law at the time was you could only drive LHD [Left Hand Drive] vehicles as part of a club event or meeting, thus was no good for a family driven daily driver type car.
Since our dad took ownership of the vehicle back it remained mostly unchanged.
I was gifted the car on my 21st birthday some 16 years ago.
Not long after my dad was driving it and had a heater hose go, unfortunately it overheated the engine and did some damage.
We had the engine rebuilt, and the gearbox also needed some work.
I have installed a motec engine management system.
3" hand built exhaust, FMIC with custom plumbing, plumb back bov, 600cc injectors, 800hp lock up converter, walbro 255, ac delete, and heater box delete.
All this was done in my garage at home with parts fabricated, as you could imagine parts are impossible to get here in Australia & super expensive to ship from the states.
Currently have it on a relatively safe tune running around 18psi boost.
Last dyno run was ~250hp at the rear wheels but the torque converter was toast, you could feel it slipping while you drive.
I guess it would be around the 350hp range with the new converter installed.
I've also rewired the whole vehicle.
The factory harness had lots of issues after conversion.
.
Here's some updated photos below of this incredible beast!
[Thanks Rocki for sharing these with us!]
.
Aside from the RHD conversion, look at the non-standard things done:
– check out how the blowoff valve is plumbed!
– notice the heater/ac box is removed (as thats where the steering column is!)
– the octupus vacuum block lines are relocated
– it uses a different style coil pack
.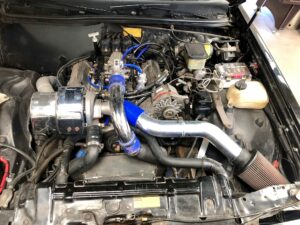 .
My old man (in pic below)! Took him for a run over the weekend.
I have had a speedometer installed that goes up to 300kms. [note: that's about 186 MPH converted]
The fastest I had this car up to is 250km per hour, [note: that's about 155 MPH converted!]
it still has more to give too, but way too scary!
My dad has had it faster.
.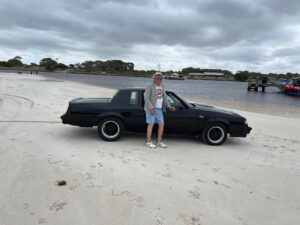 .
The Coil pack is off a L67 3.8l sc which was featured in the Holden commodore VT.
.
.
Electronic heater fab:
.
.
Engine management, relay box, new fuse box & ecu location:
.
.
Exhaust fab:
.
.
Trunk Speaker Box:
.
.
Dyno testing:
.
.
Rewiring the car:
.
.
Conversion & new VIN tags:
.
.
Engine pics:
.
.
And of course, it's stored in a nice comfy garage!
.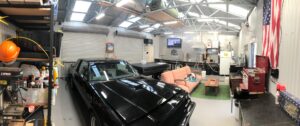 .
It looks like a ton of work was done to this Buick GN, but what a way cool, unique vehicle!
.