Turbo Buick owners spend a bunch of money on prepping the engine for max output using the best parts they can get.
Spark plugs can often be overlooked in the process, and basically, a plug is a plug, it's designed to fire off at the appropriate time it's suppose to, to generate a bang in the motor.
A slight advantage can be had if you use the correct one for your application.
They can prevent your engine from running hot or cold, prevent detonation, and by burning the correct amount of gas that the motor needs, which aids in fuel fouling the plugs.
We're not going to get into the exact science and theory on all of the different varieties of spark plugs, but we will reveal here what other Turbo Regal owners are using in their engines.
.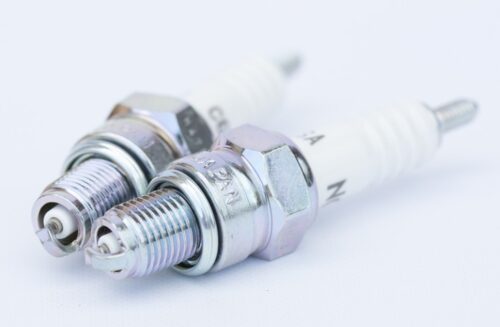 .
Generally, the more boost you run, the colder a plug you should implement, which means a lower part number.
(15 psi = AC R44TS, 30 psi = Delco R43TS)
Also, the more boost you run, the tighter a gap you should provide.
(15 psi = .035, 30 psi = .025)
.
near stock cars should use:
NOS, ac delco. 44s.
Factory plug is R44TS, more boost = colder plug = Delco R43TS. .032-.035 gap.
.
For slightly modded engines (stock heads, aftermarket turbo, 210 cam), one owner used:
NGK YR5 7052 gapped at .030
.
Most modified cars, with iron heads:
(any of these can be used, some people or engines prefer 1 or the other)
Autolite 23 spark plugs, .022 – .025 gap
ngk ur4 6630
NGK UR5 .025gap
.

For aluminum heads:
gn1 aluminum heads are suggested to run an autolite spark plug.
should use resistor plugs only.
you should try to run resistor plugs if still running a powerlogger and stock ECM for best performance and compatibility.
One turbocharged 3.8 Liter Buick engine owner says:
NGK R5671A-8 for Aluminum GN1s. Gapped at .021. This is a non-resistor gasketed plug ZF47F NGK (5913)
.
The choice is yours (or your engine builders). You may have to do a trial and error test with a few different spark plugs to figure out which one works best for your own specific application.
.
Once you have selected the proper spark plug you want to run, and then you have actually run your car hard, you should verify how well that particular plug works for your application by reading the spark plug, which will tell you if it is burning correctly in your motor.
.

.