This category on the website [ Switches and Wiring ] we are giving you all of the information related to the individual switches in the Buick Turbo Regal, along with the associated wiring, connector plugs, etc.
.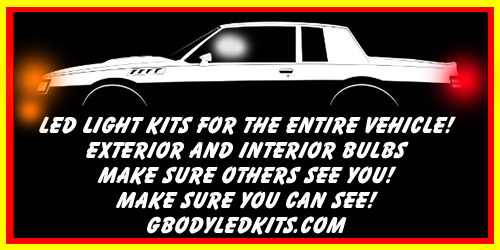 .
This is only for the Gbody Regals that have a digital dash instrument cluster.
This is commonly known as the hobbs switch, on the passenger side fender (next to fuel pump relay).
(this replaces the MAP sensor found on analog gauge cars)
The hobbs switch turns on the Turbo Power Lights in the instrument cluster.
[SEE hobbs switch – for more info]
[SEE turbo power dash lights]
.
PHOTOS OF SWITCH AND CONNECTED WIRES:
.
.
Here's all of the Switches in the Buick Turbo Regals:
(you can click these links to go direct to these posts)
* A/C High Pressure Cut-out Switch (Back of Compressor)
* A/C Pressure Cycling Switch (on Accumulator)
* A/C Pressure Line (Under Alternator)
* Blower and A/C Clutch Control Module Switch (HVAC Fan Speed Control)
* Brake Pressure Switch (in Prop Valve)
* Brake Switch (Above Brake Pedal)
* Coolant Fan Temperature Switch (Under Throttle Linkage)
* Cooling High Temperature Switch (Manifold Front Passenger Side; Idiot Light)
* Cornering Light Switch (Regal Limited Models)
* Cruise Control Switch (Lever)
* Cruise Control Brake Switch
* Defogger Control Switch (Rear Defogger Button)
* Dome Reading Lights Switch
* Door Jamb Switch (Both Sides)
* Electronic Air Conditioning Touch Climate Control (Electric Touch A/C)
* Gear Selector Switch
* Glove Box Switch (for Light)
* Hazard Switch (Emergency Flashers)
* Headlight Switch
* Headlight Dimmer Switch (High Beam)
* Hobbs Switch (Digital Dash Cars)
* Horn Button Switch
* HVAC Fan Speed Control Switch (Heater A/C Control Head Blower Switch)
* HVAC Mode Control (Heater A/C Control Head Mode Switch)
* Ignition Switch
* Ignition Key Warning Switch
* Instrument Cluster Dimmer Switch (Dash Lights Brightness)
* Neutral Safety and Backup Light Switch
* Oil Pressure Switch
* Overtemp Hot Switch
* Park Brake Switch (Emergency Brake)
* PowerMaster Brake Switch
* Power Door Lock Switch (Both Sides)
* Power Seat Switch
* Power Window Switch (Both Sides)
* Radio Button (on/off Switch)
* Rear View Mirror Map Light Switch
* Seat Belt Switch
* Sunroof Switch (Astroroof Moonroof)
* Theft Deterrent Warning System Tamper Switches
* Trunk Light Switch
* Trunk Release Button
* Turbo Power Light Switch (Digital Dash Cars)
* Turn Signal Switch (Lever)
* Twilight Sentinel Switch (Rotary Dial)
* Under Hood Light Switch (engine bay compartment)
* Vanity Mirror Light Switch (Passenger Side Visor)
* Wiper and Washer Switch
.