This category on the website [ Starting Charging Ignition Wiring & Connectors ] we are giving you all of the information related to the individual parts in the Buick Turbo Regal, along with the associated wiring, connector plugs, etc.
.
VEHICLE APPLICATION:
Buick Regal, T-Type, Turbo T, Limited, Grand National, GNX
PART NAME:
Alternator
PURPOSE OF PART:
charges the battery
puts out power to applications needing it
TURNS ON-OFF / FUNCTIONS / USED WHEN:
in constant use while the engine is running
LOCATION IN VEHICLE:
engine compartment, front of motor, drivers side
ORIGINAL GM PART NUMBER:
cs144
10497176 / 10463095 (alternator)
25525338 (Brace)
PART BASE COLOR:
metal, black
CONNECTOR PLUG COLOR (PART SIDE):
black
WIRES ATTACHED (PART SIDE):
n/a
(no external wires)
CONNECTOR PLUG COLOR (HARNESS SIDE):
black
NUMBER OF WIRES ATTACHED (HARNESS SIDE):
1
COLOR & PURPOSE OF (HARNESS SIDE) WIRES:
black connector plug (for "L")
"BAT" terminal
there's 4 plug terminals (S F L P), but only 1 of them ("L") is used on the Turbo Regal:
(note: some vehicles may have 2 wires here, if there's a "volt booster" unit attached, which utilizes an aftermarket setup)
brown "L" (regulator), goes to (junction) to volts indicator light (in the instrument panel)
[the brown wire is called the "field" wire]
.
red (battery) [could be a black wire], goes to (junction) to battery (* positive side)
(junction connects to fusible link "J")
(junction connects to starter solenoid "B")
.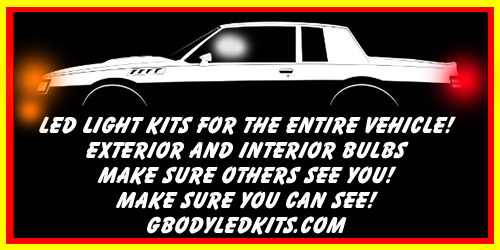 .
OTHER NOTES:
labelled as "generator" on diagrams.
amp sizes range from 120 (stock) all the way up to 240 amp (aftermarket) versions.
The volts indicator light is part of the charging system, if it burns out, the alternator may not charge the battery!
[SEE Volts light]
This might be of some use:

FieldFix™ ALTERNATOR PLUG-IN by Casper's Electronics #6961
The FieldFix™ Alternator Plug-In by Casper's Electronics "plug and play" wire harness is designed to assure uninterrupted charging system function on your Turbo Buick or Turbo Trans Am.
The FieldFix™ forces field current to the alternator whenever the ignition switch is on, and eliminates the possibility of not charging the battery due to faulty wires, burned-out ALT (volts) lamp, aging dash cluster flex-board connections, dash wiring problems, etc.
It accomplishes this by providing current to the field winding or the alternator whenever the key switch is turned on.
We highly recommend this item because if the bulb for the (volts) alternator light in the dash burns out, the charging system will not function! By having this installed in your car, the charging system will still function properly.
FieldFix™ comes with easy-to-follow directions. It simply plugs in and no wires are cut. This harness provides the alternator with its field current, acts as a "safety net" for system charging and assured full charging capability to the car's battery.
.
PHOTOS OF PART AND CONNECTED WIRES:
.
.
Here's a list of all of the ECM Wiring Harness Starting Charging Ignition Wiring & Connectors in the Buick Regal:
(click the links to go to the one you need info about)
* ALDL
* Alternator
* Battery Cables (Positive & Negative)
* Bulkhead Connections & Distribution Blocks
* Coil Pack
* ECM Memory Power Wire
* ECM
* Fuel Pump Test Tap
* Fuse Box
* Fusible Links
* Harness Routing
* Ignition Module (IM)
* Inline Fuses
* Main Grounds (Grounding Points)
* SES Light
* Starter
* Tach Tap Harness
* Volts Light
* Wiring Harness (Main Harnesses in car)
.