This category on the website [ Starting Charging Ignition Wiring & Connectors ] we are giving you all of the information related to the individual parts in the Buick Turbo Regal, along with the associated wiring, connector plugs, etc.
.
VEHICLE APPLICATION:
Buick Regal, T-Type, Turbo T, Limited, Grand National, GNX
PART NAME:
Coil Pack
PURPOSE OF PART:
sends out power thru spark plug wires to spark plugs
TURNS ON-OFF / FUNCTIONS / USED WHEN:
in constant use while the engine is running
LOCATION IN VEHICLE:
engine compartment, rear center, on top of engine in back, near firewall
ORIGINAL GM PART NUMBER:
25533542 (coil)
25533541 (screw)
25526450 (gasket)
25526448 (coil)
ACDelco 12353801 (coil)
.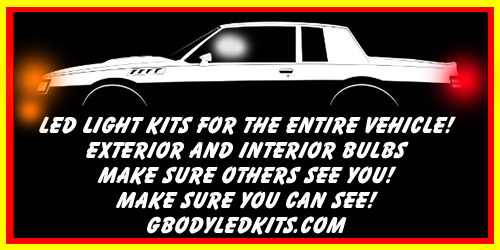 .
PART BASE COLOR:
black
CONNECTOR PLUG COLOR (PART SIDE):
black
WIRES ATTACHED (PART SIDE):
4 connector wires between ignition module and coil pack.
left to right: yellow, green, blue, dark blue.
there's 6 output connectors on top (for the spark plug wires)
CONNECTOR PLUG COLOR (HARNESS SIDE):
the ignition module wire is the main "input" wire for the coil pack
(the ignition module controls the coil pack)
.
OTHER NOTES:
The coil pack is part of the CCCI (Computer Controlled Coil Ignition, or "C3I") system.
[the Ignition Module is the other part of this setup]
[see the "Ignition Module" page for details about that section]
DO NOT fold down (bottom side of coil) primary coil terminals more than one-time or the terminals may break off!
Upgraded systems include High Output Coil Packs.
The (Bailey) tr6 system totally eliminates the stock type coil & ignition module.
wiring diagram of how the coil pack & ignition module gets wired up: ccci ignition wiring
[SEE ignition module]
.
PHOTOS OF STARTING CHARGING IGNITION WIRING AND CONNECTED WIRES:
.
.
Here's a list of all of the ECM Wiring Harness Starting Charging Ignition Wiring & Connectors in the Buick Regal:
(click the links to go to the one you need info about)
* ALDL
* Alternator
* Battery Cables (Positive & Negative)
* Bulkhead Connections & Distribution Blocks
* Coil Pack
* ECM Memory Power Wire
* ECM
* Fuel Pump Test Tap
* Fuse Box
* Fusible Links
* Harness Routing
* Ignition Module (IM)
* Inline Fuses
* Main Grounds (Grounding Points)
* SES Light
* Starter
* Tach Tap Harness
* Volts Light
* Wiring Harness (Main Harnesses in car)
.