This category on the website [ Starting Charging Ignition Wiring & Connectors ] we are giving you all of the information related to the individual parts in the Buick Turbo Regal, along with the associated wiring, connector plugs, etc.
.
VEHICLE APPLICATION:
Buick Regal, T-Type, Turbo T, Limited, Grand National, GNX
PART NAME:
Positive Battery Cable
Negative Battery Cable
PURPOSE OF PART:
positive side receives current from alternator
positive side supplies power to starter & components that require it
negative side is grounded to engine (on front of passenger side head [going through turbo bracket]), pigtail wire to fender as well
TURNS ON-OFF / FUNCTIONS / USED WHEN:
in constant use
(more so when the engine is running)
LOCATION IN VEHICLE:
engine compartment, passenger side, near the core support, attached to the battery
ORIGINAL GM PART NUMBER:
–
PART BASE COLOR:
positive = red
negative = black
CONNECTOR PLUG COLOR (PART SIDE):
red, black
WIRES ATTACHED (PART SIDE):
2 connected to battery, 1 on each side
COLOR & PURPOSE OF (HARNESS SIDE) WIRES:
There's also an ECM MEM feed connector (plugs into orange wire for computer) on the positive side cable.
.
OTHER NOTES:
thicker gauge aftermarket versions are available (mainly for use with higher output alternators)
.
PHOTOS OF PART AND CONNECTED WIRES:
.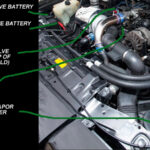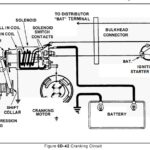 .
Here's a list of all of the ECM Wiring Harness Starting Charging Ignition Wiring & Connectors in the Buick Regal:
(click the links to go to the one you need info about)
* ALDL
* Alternator
* Battery Cables (Positive & Negative)
* Bulkhead Connections & Distribution Blocks
* Coil Pack
* ECM Memory Power Wire
* ECM
* Fuel Pump Test Tap
* Fuse Box
* Fusible Links
* Harness Routing
* Ignition Module (IM)
* Inline Fuses
* Main Grounds (Grounding Points)
* SES Light
* Starter
* Tach Tap Harness
* Volts Light
* Wiring Harness (Main Harnesses in car)
.