This category on the website [ Starting Charging Ignition Wiring & Connectors ] we are giving you all of the information related to the individual parts in the Buick Turbo Regal, along with the associated wiring, connector plugs, etc.
.
VEHICLE APPLICATION:
Buick Regal, T-Type, Turbo T, Limited, Grand National, GNX
PART NAME:
Volts Light (Dash Instrument Panel cluster)
PURPOSE OF PART:
warning light
this light is part of the alternator charging system
TURNS ON-OFF / FUNCTIONS / USED WHEN:
lights up upon startup
lights up when there is an issue with the alternator / charging circuit
LOCATION IN VEHICLE:
instrument cluster, LH side of panel, 2nd light down from the top
ORIGINAL GM PART NUMBER:
–
PART BASE COLOR:
red warning light (but has a white bulb behind the lens)
CONNECTOR PLUG COLOR (HARNESS SIDE):
gray, or white
NUMBER OF WIRES ATTACHED (HARNESS SIDE):
2
COLOR & PURPOSE OF (HARNESS SIDE) WIRES:
pink/black in from GAGES fuse
brown out to alternator
.
OTHER NOTES:
[SEE Volts light]
The "volts" bulb has a special (white, sometimes a bigger gray) socket (with a resistor across it), as the alternator completes it charging circuit thru it.
(the resistor is so if this bulb burns out, the alternator keeps charging with this special socket/bulb combo)
[no other socket in the dash uses this special socket!]
[ ALSO TO NOTE: a blown LPS fuse will prevent the alternator from charging, as that fuse supplies 12 volts to the VOLTS lamp! ]
uses a 194 type light bulb.
NOTE that sometimes the socket will be replaced by a normal (non-resistor) socket, most likely by accident, as some people don't realize this is a special socket!
Caspers Electronics has a special "fix" that you can use to eliminate the possibility of a faulty volts light. The "FieldFix alternator volts light fix" is a plug and play solution. Visit their site to learn more about that product.
.
PHOTOS OF PART AND CONNECTED WIRES:
.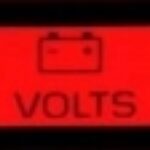 .
Here's a list of all of the ECM Wiring Harness Starting Charging Ignition Wiring & Connectors in the Buick Regal:
(click the links to go to the one you need info about)
* ALDL
* Alternator
* Battery Cables (Positive & Negative)
* Bulkhead Connections & Distribution Blocks
* Coil Pack
* ECM Memory Power Wire
* ECM
* Fuel Pump Test Tap
* Fuse Box
* Fusible Links
* Harness Routing
* Ignition Module (IM)
* Inline Fuses
* Main Grounds (Grounding Points)
* SES Light
* Starter
* Tach Tap Harness
* Volts Light
* Wiring Harness (Main Harnesses in car)
.