This category on the website [ Solenoids Modules and Wiring ] we are giving you all of the information related to the individual parts in the Buick Turbo Regal, along with the associated wiring, connector plugs, etc.
.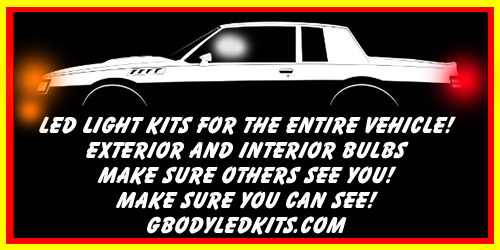 .
VEHICLE APPLICATION:
Buick Regal, T-Type, Turbo T, Limited, Grand National, GNX
MODULE NAME:
Electronic Spark Control (ESC) Module
PURPOSE OF MODULE:
tells ecm about any knock, then ecm retards timing (spark control)
TURNS ON-OFF / FUNCTIONS / USED WHEN:
used when engine is experiencing knock (determined by knock sensor)
LOCATION IN VEHICLE:
engine compartment, passenger side fender, last item on panel, closest to firewall
ORIGINAL GM PART NUMBER:
1986: 16022614
1987: 16051654
MODULE BASE COLOR:
black
CONNECTOR PLUG COLOR (MODULE SIDE):
black
WIRES ATTACHED (MODULE SIDE):
n/a
CONNECTOR PLUG COLOR (HARNESS SIDE):
black
NUMBER OF WIRES ATTACHED (HARNESS SIDE):
4
COLOR & PURPOSE OF (HARNESS SIDE) WIRES:
pink-black "B", goes to (junction) to ECM/IGN fuse
(junction connects to other things)
yellow-black "C", goes to ECM ("B7" spark retard input)
black-white "D", goes to (junction) to ground
(junction connects with other things)
dark blue "E", goes to knock sensor
.
PHOTOS OF MODULE AND CONNECTED WIRES:
.
.
OTHER NOTES:
[SEE knock sensor]
.
Here's a list of all of the Solenoids Modules and Servos Valves in the Buick Regal:
(click the links to go to the one you need info about)
* Canister Purge Solenoid (Fuel Vapor Canister Purge)
* Chime Module (Chime Alarm)
* Cruise Control Module
* Cruise Control Servo
* EGR Valve
* ESC Module
* Exhaust Gas Recirculation Vacuum Regulator Valve Solenoid (EGR EVRV)
* Heater Flow Water Control Valve
* HVAC Control Vacuum Valve (mode control valve)
* Idle Air Control Valve (IAC)
* PCV Valve (Positive Crankcase Ventilation)
* Proportioning Valve (Prop Valve)
* Starter Solenoid
* Theft Deterrent Controller Module (anti-theft system)
* Torque Converter Clutch Solenoid (TCC)
* Trunk Release Solenoid
* Vacuum Check Valves
* Wastegate Control Solenoid
.