This very reminiscent 1980s looking gauge setup looks like it mostly belongs in there, since other GM vehicles actually had these gauges in them from the factory.
These instrument clusters were found in 1989 – 1994 S10 Trucks, S10 Blazers & Oldsmobile Bravada's with the 4.3 & Vortec V6 Engines.
Note, that some of the wiring for this instrument cluster swap is simple (GM car to GM car), but some of it is pretty involved in making everything work!
(the videos and link below will explain all you need to know to get them all to function)
The cost for these varies, since you will be acquiring all of the parts from a junkyard!
.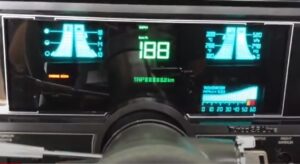 .
See them in this Buick GN:
.
.
And here's his write up for using this gauge package:
https://www.turbobuick.com/threads/s10-digital-dash-install.448246/
.
See them (done, installed) in a Regal Turbo T:
.
.
The wiring performed for the above automobile:
.
.
You will most likely need all the info from the below places to complete your conversion into your Buick Regal.
(this list was supplied by "MrGriffin" from the videos above)
S10 Custer Conversion – Analog to Digital – Pinouts
Created by: Michael Akey
[link no longer valid]
[screenshot the ones shown in the videos if you need this information]
S10 Digital Dash Swap to Gbody Turbo Buick Regal / Grand National
Created by: Michael Bottomley (Buick Mike)
https://www.turbobuick.com/threads/s10-digital-dash-install.448246/
18 Pin Harness OEM Connector – Turbo Buick Regal / Grand National
Listed by: CaspersElectronics.com
www.installationinstructions.com/108204.pdf
Video of S10 Blazer Analog Dash (GMC Jimmy) Conversion to Digital
Created by: @Saabkyle04
youtube.com/watch?v=X8-N4PsqfMQ
.
If you were thinking about installing a different instrument cluster gauge package into whatever Turbo Buick Regal you own, we hope you have found the information we supplied you with this week to be beneficial in your quest for the perfect dash gauges for your Gbody Regal!
Thanks for following along…
.