The official term is "CHMSL" which translates into Center High Mounted Stop Light.
AKA Third Brake Light.
This interior located stop brake lamp is mounted on the rear deck and butts up against the rear window glass.
It comes on whenever you step on the brake pedal.
The OEM stock light was a white bulb.
.
SPECS:
OEM BULB NUMBER: 1156
SOCKET COLOR: brown
NUMBER OF WIRES ATTACHED: 2
WIRE COLOR & PURPOSE:
Light blue wire in from brake switch.
Light blue / black wire out to ground.
.
HOW TO CHANGE BULB:
.
The entire CHMSL assembly consists of 6 parts:
The bottom base of the housing.
The top of the housing.
The red lens.
The rubber bezel that holds the red lens on.
The bulb socket / reflective housing.
The bulb.
.
2 phillips screws hold the base onto the rear shelf, 1 on each side.
2 more phillips screws hold the top and bottom sections together.
The lens & rubber bezel disconnect from the housing.
The combo bulb socket / reflective housing pulls out (upwards) from the bottom base.
Twist the bulb out.
Replace light.
Reassemble in reverse order.
.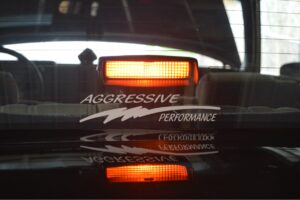 .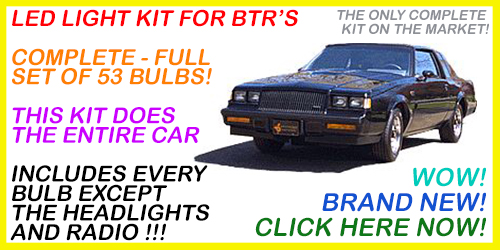 .
Russ (the owner of this Buick WH1) says here's a helpful tip:
CLEAN the window NOW in the area of the Center High Mounted Stop Lamp while it's removed from the Turbo Buick!
As any Buick Regal owner knows, you can't really easily clean the glass here in this area when this light is in the way!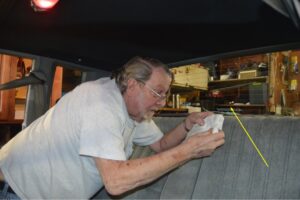 .
We recently saw the below 3rd brake light for sale, and noticed the wire coloring is different than the above stated. This version does has the light blue wire, but instead of the other wire being a light blue-black color, it has a solid black wire, so it's possibly from a different year, or even a different Gbody, but none the less, would still function the exact same way as the one above. This is just a FYI.
.
.
This is part of an ongoing series about the details & specifics on Changing Light Bulbs in your Buick Turbo Regal:
1) Overview
2) Head Lights
3) Bumper Lights (running lights, turn signals)
4) Front Corner Side Marker Lights
5) Front Lower Cornering Lamps (Limited models)
6) Under Hood Light
7) Brake & Turn Tail Lights
8) Backup Lights (reverse light)
9) Rear Running Tail Lights (center & side corner marker lights)
10) License Plate Light
11) Trunk Light
12) Under Dash / Courtesy Lights (driver / passenger side)
13) Glovebox Light
14) Dash plaque (usually on Limited models)
15) Dash Gauges / Side Warning Lights (analog & digital dash)
16) HVAC Light (heater / AC)
17) Console Shifter Indicator Light
18) Ashtray Light on Non-Console Cars
19) radio light bulbs
20) Rear Window Defogger Button Light
21) Rear View Mirror Map Lights (upgraded option, not standard on Regals)
22) Passenger Visor Vanity Mirror Light
23) Dome Light (t-top & hardtop; factory & upgraded hardtop versions)
24) CHMSL (Center High Mounted Stop Light, AKA Third Brake Light) – (THIS page)
25) Lower Door Panel Courtesy Lights (Limited models)
26) Aftermarket Dash / Other Extra Add-on Gauge Lights (a-pillar, console under radio, etc)
27) Opera / Coach Lights (Limited models)
You can click any link above and be taken to the light of your choice.
.