This category on the website [ Sensors and Wiring ] we are giving you all of the information related to the individual sensors in the Buick Turbo Regal, along with the associated wiring, connector plugs, etc.
.
VEHICLE APPLICATION:
Buick Regal, T-Type, Turbo T, Limited, Grand National, GNX
SENSOR NAME:
wideband oxygen sensor
PURPOSE OF SENSOR:
gives a better reading for tuning than the factory O2 sensor does
TURNS ON-OFF / FUNCTIONS / USED WHEN:
in constant use while the engine is running
LOCATION IN VEHICLE:
in the downpipe, after the turbo.
at least 12″ (sometimes 24″) away from the turbo.
ORIGINAL GM PART NUMBER:
this item is/was NOT a factory installed part
SENSOR / BASE COLOR:
brass, other metal
CONNECTOR PLUG COLOR (SENSOR SIDE):
black (usually)
WIRES ATTACHED (SENSOR SIDE):
5 (usually)
CONNECTOR PLUG COLOR (HARNESS SIDE):
black (usually)
NUMBER OF WIRES ATTACHED (HARNESS SIDE):
5 (usually)
COLOR & PURPOSE OF (HARNESS SIDE) WIRES:
this varies depending on the brand you buy.
the instructions will tell you where to hook them all up at.
THINGS TO KNOW ABOUT THIS ITEM:
the sensor itself usually runs to a "controller" for it, then gets connected elsewhere (powerlogger, computer, etc.)
some chips (like turbotweak, as an example) can use the info from the wideband sensor to run the engine
OTHER NOTES:
we used an AEM wideband, but there's many other systems out there (PLX, Innovate, etc)
[see our own wideband installation here, along with photos and how to]
.
PHOTOS OF SENSOR AND CONNECTED WIRES:
.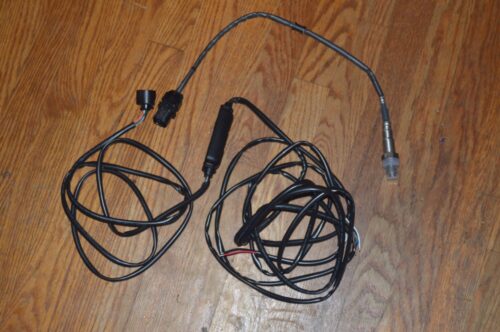 .
Here's a list of all of the sensors in the Buick Regal:
(you can click the links to go to the one you need info about, after they're published)
* Air Temperature Intake Sensor (IAT; MAT; ATS)
* Camshaft Sensor (CAM)
* Coolant Temperature Sensor (CTS)
* Crank Sensor
* Knock Sensor
* Mass Air Flow Sensor (MAF)
* Manifold Air Pressure Sensor (MAP)
* Oxygen Sensor (O2, narrowband)
* Throttle Position Sensor (TPS)
* Turbo Boost Gage Sensor
* Twilight Sentinel Photo Cell Sensor
* Vehicle Speed Sensor
* Wideband Oxygen Sensor (WBO2)
.