This category on the website [ Sensors and Wiring ] we are giving you all of the information related to the individual sensors in the Buick Turbo Regal, along with the associated wiring, connector plugs, etc.
.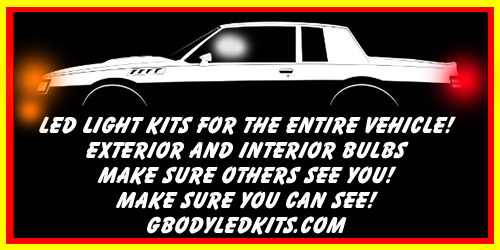 .
VEHICLE APPLICATION:
Buick Regal, T-Type, Turbo T, Limited, Grand National, GNX
SENSOR NAME:
Camshaft Position Sensor
PURPOSE OF SENSOR:
determines camshaft location within rotation of engine.
TURNS ON-OFF / FUNCTIONS / USED WHEN:
used at startup
LOCATION IN VEHICLE:
front of engine, on top of front cover
ORIGINAL GM PART NUMBER:
25516915
SENSOR / BASE COLOR:
metal, black cap, black gear
CONNECTOR PLUG COLOR (SENSOR SIDE):
black
WIRES ATTACHED (SENSOR SIDE):
black, red, gray
(or black, blue-black, gray-red)
CONNECTOR PLUG COLOR (HARNESS SIDE):
black
NUMBER OF WIRES ATTACHED (HARNESS SIDE):
3
COLOR & PURPOSE OF (HARNESS SIDE) WIRES:
gray-red "A", goes to ignition module ("N". 12v signal power)
light blue "B", goes to ignition module ("K", connects to buffer/amplifier)
black "C", goes to ignition module ("L", signal ground)
THINGS TO KNOW ABOUT THIS ITEM:
The cap (the black part on top) can be replaced if needed, you don't always need an entire new cam sensor.
Repair kits are available as well (it's usually the pin inside that breaks).
OTHER NOTES:
The product on the right can be used as a "limp home" method:
CamFix™ Module by Casper's Electronics #6960, about $80.
The CamFix™ Module is designed to insert a "start-up" cam signal, which can help to start the engine even if the cam sensor is defective, broken or missing.
(throw this in your trunk for emergencies!)
.
you can see here: 1984/1985 sensor locations
.
PHOTOS OF SENSOR AND CONNECTED WIRES:
.
.
Here's a list of all of the sensors in the Buick Regal:
(you can click the links to go to the one you need info about, after they're published)
* Air Temperature Intake Sensor (IAT; MAT; ATS)
* Camshaft Sensor (CAM)
* Coolant Temperature Sensor (CTS)
* Crank Sensor
* Knock Sensor
* Mass Air Flow Sensor (MAF)
* Manifold Air Pressure Sensor (MAP)
* Oxygen Sensor (O2, narrowband)
* Throttle Position Sensor (TPS)
* Turbo Boost Gage Sensor
* Twilight Sentinel Photo Cell Sensor
* Vehicle Speed Sensor
* Wideband Oxygen Sensor (WBO2)
.