This category on the website [ Sensors and Wiring ] we are giving you all of the information related to the individual sensors in the Buick Turbo Regal, along with the associated wiring, connector plugs, etc.
.
VEHICLE APPLICATION:
Buick Regal, T-Type, Turbo T, Limited, Grand National, GNX
SENSOR NAME:
Exhaust Oxygen O2 Sensor
PURPOSE OF SENSOR:
gives reading to ECM
TURNS ON-OFF / FUNCTIONS / USED WHEN:
in constant use while engine is running
LOCATION IN VEHICLE:
under turbo, in exhaust pipe
ORIGINAL GM PART NUMBER:
25162753
AFS-20, AFS-22
SENSOR / BASE COLOR:
brass, other metal
CONNECTOR PLUG COLOR (SENSOR SIDE):
black
WIRES ATTACHED (SENSOR SIDE):
1 purple
CONNECTOR PLUG COLOR (HARNESS SIDE):
black
NUMBER OF WIRES ATTACHED (HARNESS SIDE):
1
COLOR & PURPOSE OF (HARNESS SIDE) WIRES:
purple wire, goes to ECM (oxygen sensor input) "D7"
THINGS TO KNOW ABOUT THIS ITEM:
this is a self grounding sensor.
The original factory oxygen sensor is a narrow band sensor.
OTHER NOTES:
Some owners prefer GM (AC Delco) versions.
The Denso brand is a popular upgraded O2 sensor to install (especially with using race gas).
A heated oxygen sensor is another type.
The measuring method for the O2 sensor is in MV (MilliVolts), and on a scanmaster or other reading tool, runs 0mv to 1000mv.
The AFR (Air Fuel Ratio) can run from 12:1 to 18:1, with the stochiometric A/F point of 14.7 being the dividing line. Corrections are made from there by the computer.
The OEM sensor sends a signal to the ECM, telling it if the exhaust gas is lean or rich. The ECM then makes the necessary corrections from there, to the part throttle fueling. This adjustment does NOT affect the WOT fueling.
.
you can see here: 1984/1985 sensor locations
.
PHOTOS OF SENSOR AND CONNECTED WIRES:
.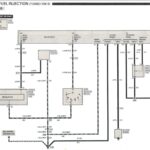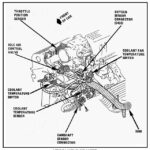 .
Here's a list of all of the sensors in the Buick Regal:
(you can click the links to go to the one you need info about, after they're published)
* Air Temperature Intake Sensor (IAT; MAT; ATS)
* Camshaft Sensor (CAM)
* Coolant Temperature Sensor (CTS)
* Crank Sensor
* Knock Sensor
* Mass Air Flow Sensor (MAF)
* Manifold Air Pressure Sensor (MAP)
* Oxygen Sensor (O2, narrowband)
* Throttle Position Sensor (TPS)
* Turbo Boost Gage Sensor
* Twilight Sentinel Photo Cell Sensor
* Vehicle Speed Sensor
* Wideband Oxygen Sensor (WBO2)
.