The heater / vent / air conditioning control head has 1 single light on the right side of the unit.
The light comes on when your regular lights are turned on.
The OEM factory light was a white bulb.
[Note that the below info is for the manual controlled HVAC unit. 1984-1986 Regals could have had the optional "Electronic Touch Climate Control" unit, and there's not much info available for this type of system, but what we do know about them can be found way down below]
.
SPECS:
OEM BULB NUMBER: 194
SOCKET COLOR: black
NUMBER OF WIRES ATTACHED: 2
WIRE COLOR & PURPOSE:
CONNECTOR 1: gray wire in from INST LPS fuse (via dimmer switch).
CONNECTOR 2: black wire out to ground.
.
HOW TO CHANGE BULB:
.
Remove the bezel trim.
4- 7mm screws attach the control head to the dashboard.
Pull the unit out so you can access light socket.
Twist the socket out.
Pull the bulb out.
Replace bulb.
Reassemble in reverse order.
.
.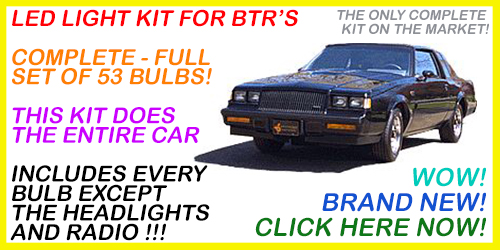 .
DETAILS ABOUT THE "Electronic Touch Climate Control" VERSION:
"Electronic Touch Climate Control" was an available option in all 1984, 1985, and 1986 Turbo Regals.
No other models share parts with the Regal climate control. This system was used on 82-86 Regals only.
Yes a Riviera control head looks exactly the same as the regals, & yes it will bolt into the car the same way & the wires will also plug into the back of it the same. The rear wheel drive LeSabres & Electras & station wagons also have a control that looks the same.
BUT no other control will function correctly in a Buick Regal. Only a Regal control will work.
The Regal uses vacuum actuators & a programmer, along with the electronics.
The bigger Buicks are electronic only.
Also the Riviera system is slightly different than the full size rear drive cars.
There are 3 different systems for the 3 different car lines, & although they look alike the control units (& most system parts) do not interchange.
Also, the C68 touch climate system is Buick's design only, so you will never find parts to fit in an Oldsmobile or Cadillac.
To help identify what control unit you have, there is usually an ink stamp number on the back or top of the case, & it will usually include an E, B ,or G.
E is Riviera, B is LeSabre or Electra, & G is for the Regal.
I'm not sure what the other numbers are.
There are 2 bulbs inside that are replaceable, but the one was a special bulb that is discontinued, so you need to find one from a spare control.
I don't know of any others repairs that can be done to the control.
I should also add, most people seem to think that anytime the touch air system has a problem that the control is bad.
There are lots of components in behind the dash. All the actuators & sensors must work correctly.
The control also self-tests the system, & flashes a light to indicate trouble.
You need the factory service manual to test it all to find where a problem is.
.
Pics of the Electronic Touch Climate Control HVAC unit:
.
This is part of an ongoing series about the details & specifics on Changing Light Bulbs in your Buick Turbo Regal:
1) Overview
2) Head Lights
3) Bumper Lights (running lights, turn signals)
4) Front Corner Side Marker Lights
5) Front Lower Cornering Lamps (Limited models)
6) Under Hood Light
7) Brake & Turn Tail Lights
8) Backup Lights (reverse light)
9) Rear Running Tail Lights (center & side corner marker lights)
10) License Plate Light
11) Trunk Light
12) Under Dash / Courtesy Lights (driver / passenger side)
13) Glovebox Light
14) Dash plaque (usually on Limited models)
15) Dash Gauges / Side Warning Lights (analog & digital dash)
16) HVAC Light (heater / AC) – (THIS page)
17) Console Shifter Indicator Light
18) Ashtray Light on Non-Console Cars
19) radio light bulbs
20) Rear Window Defogger Button Light
21) Rear View Mirror Map Lights (upgraded option, not standard on Regals)
22) Passenger Visor Vanity Mirror Light
23) Dome Light (t-top & hardtop; factory & upgraded hardtop versions)
24) CHMSL (Center High Mounted Stop Light, AKA Third Brake Light)
25) Lower Door Panel Courtesy Lights (Limited models)
26) Aftermarket Dash / Other Extra Add-on Gauge Lights (a-pillar, console under radio, etc)
27) Opera / Coach Lights (Limited models)
You can click any link above and be taken to the light of your choice.
.