The lighted dash plaques are found on Buick Regal Limited vehicles only.
(they say "Buick Regal Limited" on them, at the lower right side)
Some dash plaques use electroluminescent (no bulb), and an inverter to power it.
Some versions use 2 small bulbs.
Your Buick Regal Limited could have either version installed.
You can reach your hand up under the dash (behind the glove box) & feel around, if you find 2 metal sockets sticking out (one in the center, the other near the right hand side) then you know you have the bulb version.
The electroluminescence version only has 1 set (of 2) wires going directly to (slightly offset of) the center of the plaque.
You can see pics below of both versions.
These lights come on when you turn the park or head lights on.
(if they do not, the lights or electroluminescent element are burnt out!)
.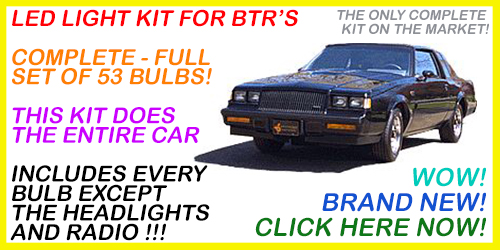 .
SPECS:
OEM BULB NUMBER: electroluminescent OR 1815 (where applicable)
SOCKET COLOR: metal housing
NUMBER OF WIRES ATTACHED: 2
WIRE COLOR & PURPOSE:
1: gray in from INST LPS fuse (power).
2: black wire out to ground.
3. white wire (power) from plug to light.
(The gray incoming power wire on the plug is from the dimmer circuit)
(the wires coming from the plug TO the light socket/bulbs are: black/ground, white/power)
.
HOW TO CHANGE BULB:
.
You need to remove the dash plaque from the dash.
It is secured via 4 pins with self threading nuts on the backside of the dash.
Open the glove box fully (tab on left side will let it completely go down).
Reach up and remove the 4 nuts. (it's not an easy task!)
Pull the dash plaque away from the dash.
Twist the socket out.
Pull the bulb out.
Replace bulbs.
Reinstall in the reverse order.
.
If you've been following along in this series, you already know we are showing you all of the lights using a 1986 Buick Regal T-type with the WH1 package as the example vehicle.
Meaning this particular G-body Regal does not have the lighted dash plaque.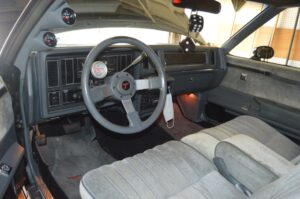 .
Good thing a fellow Buick Regal Limited owner was gracious enough to send us a couple photos of the dash plaque and light sockets, front and back views of the plaque while it's off the Gbody Regal Limited.
[ I forgot to write his name down, but thank you sir! ]
.
The light bulb version:
.
.
The electroluminescence version:
.
.
If your dash plaque light is not working, and you are handy, you might be able to fix it yourself using the below product.
(we don't have a how-to for this, so you'll have to figure it out yourself)
Some people have tried to fix it with this product they sell on ebay (I'm not sure if these people were actually successful using it, but a few have said it's possible and works, with some mods to make it work in the Buick Limited dash plaque):
12″ x 1.25″ Electroluminescent Panel/EL Tape/Back Light 12V 6 Colors With Inverter.
(if you want to keep yours looking stock, order the "white" color)
you can find it by searching this text (the title of their ad):
12″x1.25″ EL Tape/EL Panel/EL Back Light 12V With Inverter/Battery Box 6 Colors
or find the ebay seller: dealdirectonline
the price is (currently) $6.99 shipped (direct from China) for 1 strip & inverter.
(a 12″ x 2″ piece is $12.99)
Here's a few pics of what it looks like:
.
.
This is part of an ongoing series about the details & specifics on Changing Light Bulbs in your Buick Turbo Regal:
1) Overview
2) Head Lights
3) Bumper Lights (running lights, turn signals)
4) Front Corner Side Marker Lights
5) Front Lower Cornering Lamps (Limited models)
6) Under Hood Light
7) Brake & Turn Tail Lights
8) Backup Lights (reverse light)
9) Rear Running Tail Lights (center & side corner marker lights)
10) License Plate Light
11) Trunk Light
12) Under Dash / Courtesy Lights (driver / passenger side)
13) Glovebox Light
14) Dash plaque (usually on Limited models) – (THIS page)
15) Dash Gauges / Side Warning Lights (analog & digital dash)
16) HVAC Light (heater / AC)
17) Console Shifter Indicator Light
18) Ashtray Light on Non-Console Cars
19) radio light bulbs
20) Rear Window Defogger Button Light
21) Rear View Mirror Map Lights (upgraded option, not standard on Regals)
22) Passenger Visor Vanity Mirror Light
23) Dome Light (t-top & hardtop; factory & upgraded hardtop versions)
24) CHMSL (Center High Mounted Stop Light, AKA Third Brake Light)
25) Lower Door Panel Courtesy Lights (Limited models)
26) Aftermarket Dash / Other Extra Add-on Gauge Lights (a-pillar, console under radio, etc)
27) Opera / Coach Lights (Limited models)
You can click any link above and be taken to the light of your choice.
.