The glove box light is to the left of the where the locking catch mechanism is, and to the right of the trunk release if your Gbody Regal is so equipped.
The glove box light turns on automatically when you open the glove box.
(the plunger behind the "U" shaped catch lock turns the light on/off)
The OEM factory light was a white bulb.
.
.
SPECS:
OEM BULB NUMBER: 194
SOCKET COLOR: black
NUMBER OF WIRES ATTACHED: 2
WIRE COLOR & PURPOSE:
CONNECTOR 1: orange wire in from CIG/CLK fuse
CONNECTOR 2: black wire out to ground
.
[note: some pre-1984 Regals, and possibly a few 1984-1987 models depending on what assembly line workers had in stock, may use a bulb with a round base instead of the 194 flat base version. This is a 1893/ba9s bulb. These bulbs are the push in and turn to lock type style]
.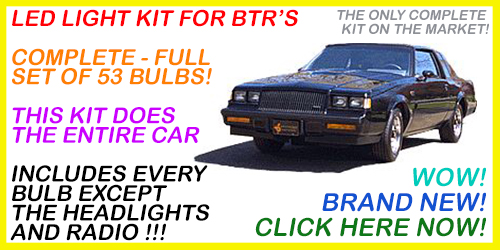 .
HOW TO CHANGE BULB:
.
Open glove box. Pull bulb out. Replace with new bulb.
.
This is part of an ongoing series about the details & specifics on Changing Light Bulbs in your Buick Turbo Regal:
1) Overview
2) Head Lights
3) Bumper Lights (running lights, turn signals)
4) Front Corner Side Marker Lights
5) Front Lower Cornering Lamps (Limited models)
6) Under Hood Light
7) Brake & Turn Tail Lights
8) Backup Lights (reverse light)
9) Rear Running Tail Lights (center & side corner marker lights)
10) License Plate Light
11) Trunk Light
12) Under Dash / Courtesy Lights (driver / passenger side)
13) Glovebox Light (THIS page)
14) Dash plaque (usually on Limited models)
15) Dash Gauges / Side Warning Lights (analog & digital dash)
16) HVAC Light (heater / AC)
17) Console Shifter Indicator Light
18) Ashtray Light on Non-Console Cars
19) radio light bulbs
20) Rear Window Defogger Button Light
21) Rear View Mirror Map Lights (upgraded option, not standard on Regals)
22) Passenger Visor Vanity Mirror Light
23) Dome Light (t-top & hardtop; factory & upgraded hardtop versions)
24) CHMSL (Center High Mounted Stop Light, AKA Third Brake Light)
25) Lower Door Panel Courtesy Lights (Limited models)
26) Aftermarket Dash / Other Extra Add-on Gauge Lights (a-pillar, console under radio, etc)
27) Opera / Coach Lights (Limited models)
You can click any link above and be taken to the light of your choice.
.