The Buick Limited is the only Regal to have the front lower cornering lights.
This is a rare option, as not all Limited Regals received these lights.
The Stock OEM light is a white bulb behind a clear lens.
When the turn signal is applied, this light comes on.
.
If you've been following along in this series, you already know we are showing you all of the lights using a 1986 Buick Regal T-type with the WH1 package as the example vehicle.
Meaning this particular G-body Regal does not have these front lower cornering lights.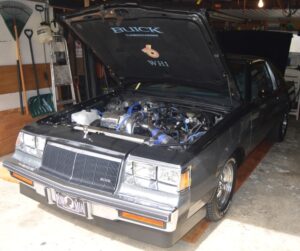 .
Good thing a fellow Buick Regal Limited owner was gracious enough to send us a couple photos of the lights as well as the socket and OEM bulb.
[ I forgot to write his name down, but thank you sir! ]
.
.
SPECS:
OEM BULB NUMBER: 1156
SOCKET COLOR: gray
NUMBER OF WIRES ATTACHED: 2
WIRE COLOR & PURPOSE:
LH (driver side) Lower Side Cornering Light
CONNECTOR 1: orange / black wire (or brown wire) in from turn switch (thru a junction)
CONNECTOR 2: black to ground.
RH (passenger side) Lower Side Cornering Light
CONNECTOR 1: orange / black wire (or brown wire) in from turn switch (thru a junction)
CONNECTOR 2: black to ground.
.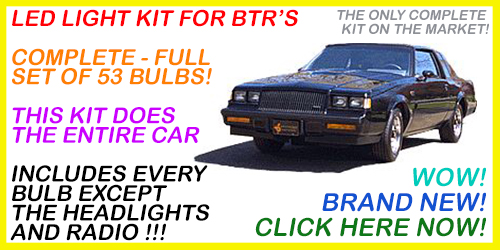 .
.
HOW TO CHANGE BULB:
.
You can access this bulb from the underside of the car, or reaching down into the engine bay.
Twist the socket out, twist the bulb out.
Reassemble in reverse.
.
Another view of a Regal Limited with the rare cornering light option:
(along with the other rare option of having coach lights!)
.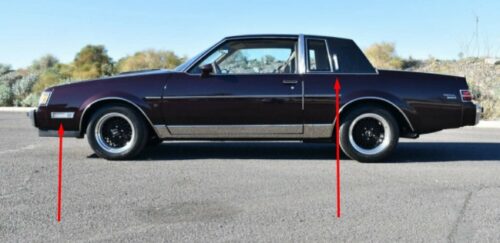 .
WIRING DIAGRAM FOR THE FRONT CORNERING LIGHTS:
.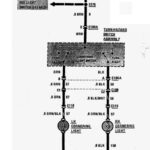 .
We recently (Oct 2023) saw someone selling this complete setup for the front fender lower cornering lights for a 1987 Buick Regal Limited.
(for $750! which may seem like a lot, but this IS a very rare part! and we don't think we've seen anything near this complete for sale before, ever…)
It's not often you get to see a setup like this "out of the car" – so we're posting it for reference purposes for you guys!
Photo shows:
1987 buick regal limited T87 cornering lights, with harness and fender bolts for grounds and small harnesses that go to bumper marker lights.
.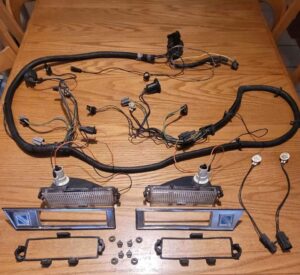 .
This is part of an ongoing series about the details & specifics on Changing Light Bulbs in your Buick Turbo Regal:
1) Overview
2) Head Lights
3) Bumper Lights (running lights, turn signals)
4) Front Corner Side Marker Lights
5) Front Lower Cornering Lamps (Limited models) – (THIS page)
6) Under Hood Light
7) Brake & Turn Tail Lights
8) Backup Lights (reverse light)
9) Rear Running Tail Lights (center & side corner marker lights)
10) License Plate Light
11) Trunk Light
12) Under Dash / Courtesy Lights (driver / passenger side)
13) Glovebox Light
14) Dash plaque (usually on Limited models)
15) Dash Gauges / Side Warning Lights (analog & digital dash)
16) HVAC Light (heater / AC)
17) Console Shifter Indicator Light
18) Ashtray Light on Non-Console Cars
19) radio light bulbs
20) Rear Window Defogger Button Light
21) Rear View Mirror Map Lights (upgraded option, not standard on Regals)
22) Passenger Visor Vanity Mirror Light
23) Dome Light (t-top & hardtop; factory & upgraded hardtop versions)
24) CHMSL (Center High Mounted Stop Light, AKA Third Brake Light)
25) Lower Door Panel Courtesy Lights (Limited models)
26) Aftermarket Dash / Other Extra Add-on Gauge Lights (a-pillar, console under radio, etc)
27) Opera / Coach Lights (Limited models)
You can click any link above and be taken to the light of your choice.
.