The engine compartment light, which is mounted under the hood, is activated by a mercury switch that turns it on when you lift the hood.
The OEM light is a white bulb mounted within the metal housing.
This light isn't super bright, but it serves it's purpose when needed.
.
SPECS:
OEM BULB NUMBER: 89
SOCKET COLOR: metal housing
NUMBER OF WIRES ATTACHED: 1
WIRE COLOR & PURPOSE:
CONNECTOR 1: black, goes to junction, then orange wire in from CIG/CLK fuse.
The bulb is grounded thru the housing, which is attached to the hood, which is grounded to the body.
A mercury switch in the housing turns the light on when you open the hood.
There is a connector plug that can be disconnected if needed.
(useful when you're at a car show and have your hood up displaying your engine!)
.
HOW TO CHANGE BULB:
.
Twist the old bulb out. Replace with new bulb.
.
THE HOUSING AND THE BULB:
.
.
.
ENGINE COMPARTMENT LIGHT AT NIGHT:
(the light shining down onto engine isn't as bright as it seems in pic, there was a bit of light coming from behind the camera)
.
.
This is part of an ongoing series about the details & specifics on Changing Light Bulbs in your Buick Turbo Regal:
1) Overview
2) Head Lights
3) Bumper Lights (running lights, turn signals)
4) Front Corner Side Marker Lights
5) Front Lower Cornering Lamps (Limited models)
6) Under Hood Light (THIS page)
7) Brake & Turn Tail Lights
8) Backup Lights (reverse light)
9) Rear Running Tail Lights (center & side corner marker lights)
10) License Plate Light
11) Trunk Light
12) Under Dash / Courtesy Lights (driver / passenger side)
13) Glovebox Light
14) Dash plaque (usually on Limited models)
15) Dash Gauges / Side Warning Lights (analog & digital dash)
16) HVAC Light (heater / AC)
17) Console Shifter Indicator Light
18) Ashtray Light on Non-Console Cars
19) radio light bulbs
20) Rear Window Defogger Button Light
21) Rear View Mirror Map Lights (upgraded option, not standard on Regals)
22) Passenger Visor Vanity Mirror Light
23) Dome Light (t-top & hardtop; factory & upgraded hardtop versions)
24) CHMSL (Center High Mounted Stop Light, AKA Third Brake Light)
25) Lower Door Panel Courtesy Lights (Limited models)
26) Aftermarket Dash / Other Extra Add-on Gauge Lights (a-pillar, console under radio, etc)
27) Opera / Coach Lights (Limited models)
You can click any link above and be taken to the light of your choice.
.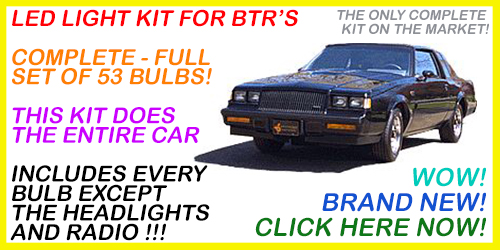 .