The backup lights, AKA reverse lights, are contained within the clear portion of the tail light housings. This is the innermost part of the tail light lenses, nearest the license plate.
Whenever you shift into reverse gear, these white lights turn on.
The OEM light was a white bulb, behind the clear lens.
.
SPECS:
OEM BULB NUMBER: 1156
SOCKET COLOR: yellow
NUMBER OF WIRES ATTACHED:
3 on LH (driver side)
2 on RH (passenger side)
WIRE COLOR & PURPOSE:
LH (driver side) backup light
CONNECTOR 1: light green in from gear switch selector. (power IN)
CONNECTOR 2: light green out to RH (passenger side) backup light. (power OUT)
CONNECTOR 3: black to ground.
RH (passenger side) backup light
CONNECTOR 1: light green in from LH (driver side) backup light. (power IN)
CONNECTOR 2: black to ground.
.
BEFORE WORK STARTS:
.
.
REMOVING THE HOUSINGS:
.
.
THE SOCKET AND BULB:
.
.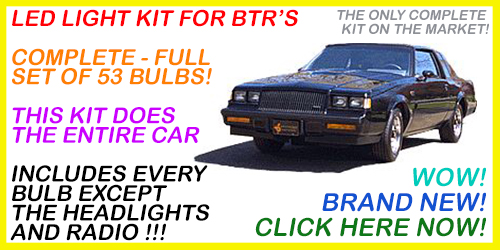 .
HOW TO CHANGE BULB:
Remove the 4 thumbscrew nuts (per side) to remove the taillight housings.
An 11 mm socket will take off these nuts if you don't want to use your hands.
Pull the housing away from the car body.
To remove the bulbs, push the tab in on the socket, twist the plug out, twist the bulb out.
Replace bulb.
Reinstall reversing the order.
.
This is part of an ongoing series about the details & specifics on Changing Light Bulbs in your Buick Turbo Regal:
1) Overview
2) Head Lights
3) Bumper Lights (running lights, turn signals)
4) Front Corner Side Marker Lights
5) Front Lower Cornering Lamps (Limited models)
6) Under Hood Light
7) Brake & Turn Tail Lights
8) Backup Lights (reverse light) – (THIS page)
9) Rear Running Tail Lights (center & side corner marker lights)
10) License Plate Light
11) Trunk Light
12) Under Dash / Courtesy Lights (driver / passenger side)
13) Glovebox Light
14) Dash plaque (usually on Limited models)
15) Dash Gauges / Side Warning Lights (analog & digital dash)
16) HVAC Light (heater / AC)
17) Console Shifter Indicator Light
18) Ashtray Light on Non-Console Cars
19) radio light bulbs
20) Rear Window Defogger Button Light
21) Rear View Mirror Map Lights (upgraded option, not standard on Regals)
22) Passenger Visor Vanity Mirror Light
23) Dome Light (t-top & hardtop; factory & upgraded hardtop versions)
24) CHMSL (Center High Mounted Stop Light, AKA Third Brake Light)
25) Lower Door Panel Courtesy Lights (Limited models)
26) Aftermarket Dash / Other Extra Add-on Gauge Lights (a-pillar, console under radio, etc)
27) Opera / Coach Lights (Limited models)
You can click any link above and be taken to the light of your choice.
.